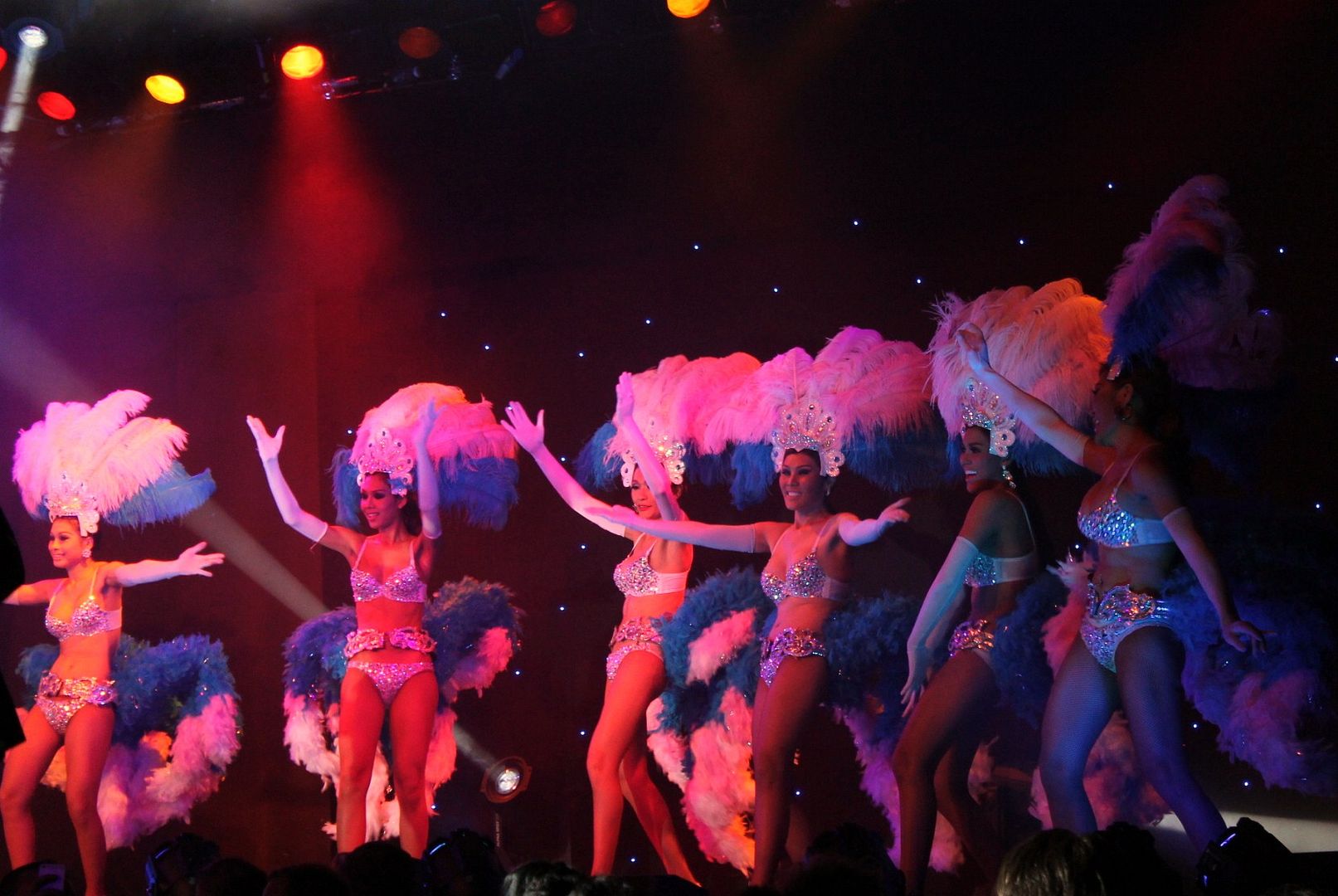 I have often seen the
Lady Boys of Bangkok
tent after leaving a night out at Satan's Hollow or the Village, and thought to myself "I really ought to go see that one of these days". This past Tuesday "one of these days" finally came around with the arrival of the
Glamorous Amorous
tour; this time the tent (or Sabai Pavillion, as it's known to Lady Boys regulars) is erected in one of Old Trafford's carparks.. just down the road for me, luckily, but also easily accessible from Manchester city centre via Metrolink.
With the promise of showstopping cabaret, immaculate make-up and flamboyant costumes, I donned my sequins (seriously.. what else?) and shimmied on down to the Pavillion. I gotta admit, the first half of the show I was a little confused over how I felt. Girls Aloud were dead ringers and there was a fabulous 1970s megamix, but there were some "sexy" parts that I just couldn't get on board with like a 50 Shades parody (I cringed at the time but funnily enough I've been singing "slap and tickle, slap and tickle.." all day). However, the second half was much more about beautiful costumes and fun dance routines, and I found that I relaxed and began to really enjoy it. I absolutely adored the feather costumes, wiggling to
Give Me Everything
; and the winged finalé costumes were breathtaking - reminded me of the Victoria's Secret shows, with bodies to match.
The Lady Boys are in Manchester until the 6th July and ticket prices start from a tenner, so well worth a visit - plus you can make a night of it with an on-site bar, cute outdoor seating area, foyer area to mingle and do the "face in the hole" (like
Charl
and I did, below.. mega attractive), and Thai food being served - I had the veggie curry which was perfect to chow down on during the interval. I was invited to the show by
Gandey World Class Productions
, so thank you for a fantastic evening!
My final verdict? Great fun, once you've settled into it.. but perhaps give granny a pre-briefing if you're taking the entire family!
Vintage Frank Usher dress
Aldo Rise J.W.Anderson shoes