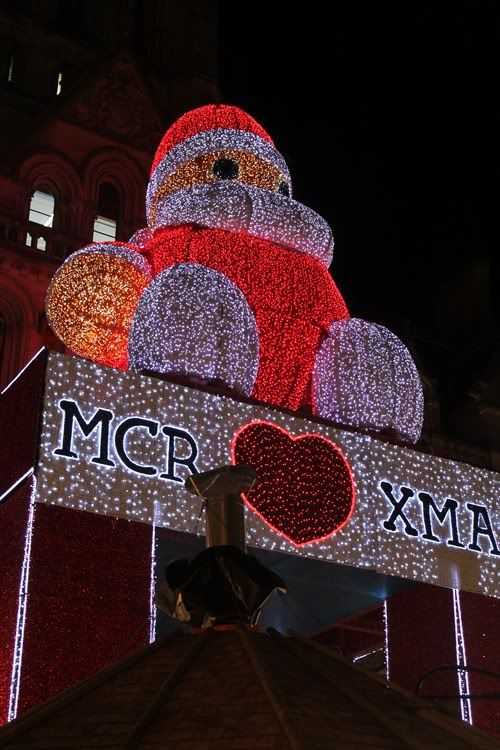 To most Mancunians, this not-so-little guy, perched on top of the Town Hall, is a greater source of excitement than the Coca Cola, Marks & Spencers and John Lewis adverts all put together.
Soon after the Christmas lights are switched on, the German Markets descend. This marks an entire month of eating Nutella crepes, drinking mulled wine (or German beer, or Christmas punch, or Jager & orange..) then drunkenly buying hand-made goods,or cheese, in my case, that you neither want nor need, all because it's CHRISTMAS, and it's BRILLIANT.
I decided to do a little street style snapping, as I'm in need of some cold-weather inspiration. I'd love to be someone that looks amazing all layered up in woolly scarves and hats, but my style tends to peak around September, when you can get away with wearing one coat, rather than layering three cardigans underneath.
Firstly, I bumped into the lovely Shannon, of
Tea and biscuits anyone?
. See the subtle bits of blue and pink in her hair? Super sweet!
Cape + socks + sandals = the perfect foil to the chilly November weather we experienced last night. A boy pal in Docs carrying your bulging Topshop buys doesn't go amiss, either.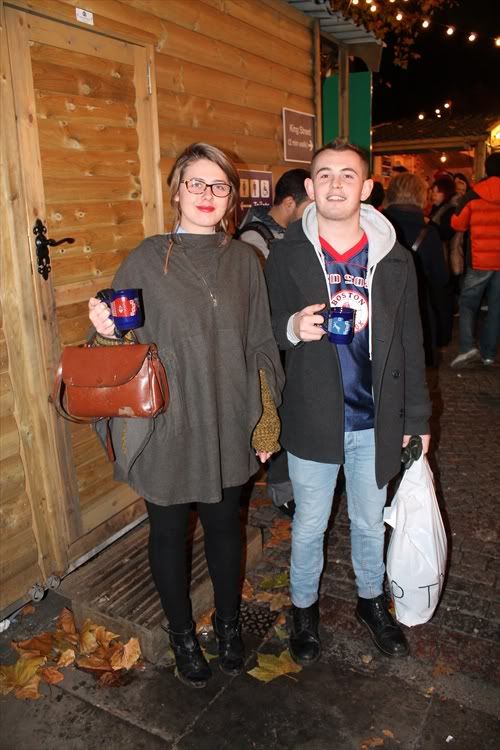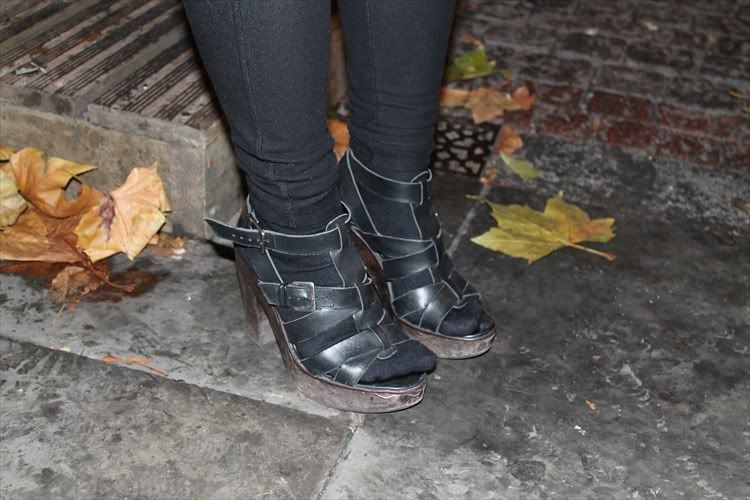 This cute group of friends look warm all bundled up in their snoods, faux furs and berry shades.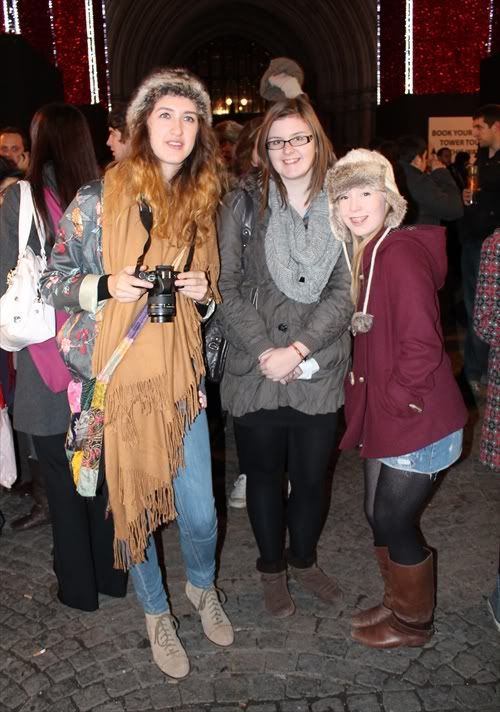 In need of an autumn/winter checklist? Fur coat, check. 1940s print dress, check. Awesome Office boots, check. LV speedy, check.. This girl doesn't put a leopard-clad foot wrong.
This brother-sister team are a little alternative, whilst remaining stylish. I love the animal print zip-up, and the chap's rockabilly-inspired get-up.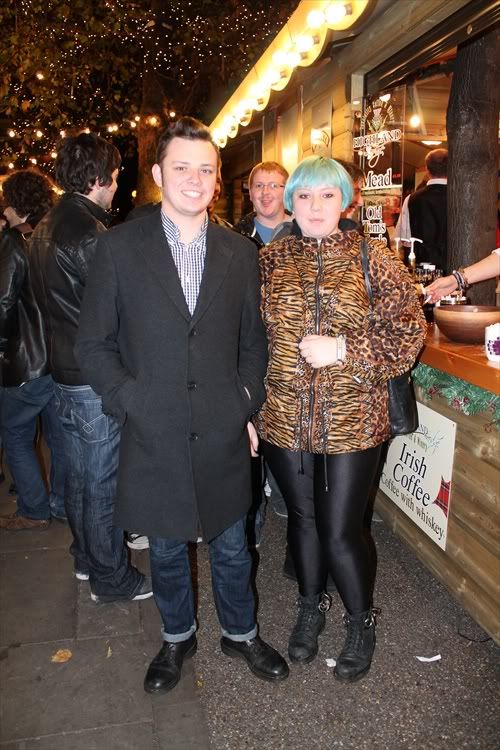 My favourite look of the night proves it doesn't have to be summer to look chic in a maxi skirt. The burgundy makes it perfect for this autumn/winter, and the cool leather warms the whole thing right up. The hot chocolate looks yum, too!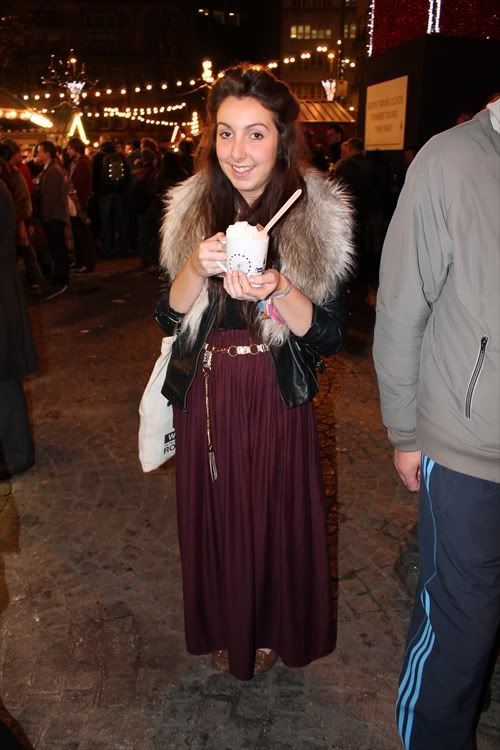 I look a little squiffy sporting my new Topshop crombie (or as they call it, "boyfriend coat"), but this is my first mulled wine, I promise. Hello to you, too, waving in the background!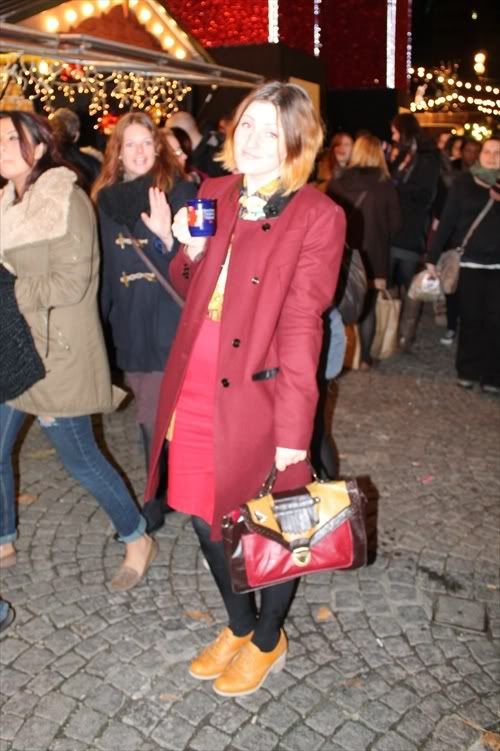 The real excitement of the evening was caused by Fred the Weatherman, whose front-side I was to shy to take a picture of..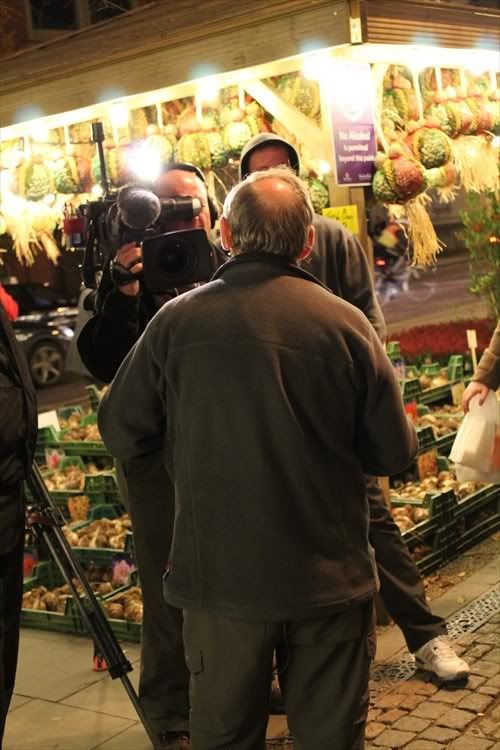 You may be reluctant to leave the house now the darker nights are drawing in, but I promise you'll be warmed right up by the festive atmosphere and warm alcoholic drinks at the Market. Don't dally - the last day to visit is the 21st December!