Now, I'm going to let you into a little secret that not many people know about me:
I like shoes. Like, I really, really like shoes. I'm obsessed; the wackier, the more limited edition, the better.
A fraction of my collection, including my Miistas, Terry de Havilland sandals, the New Look/London College of Fashion wedges, and about four different pairs of H&M samples (I'm exactly sample shoe size - hoorah!)
What - you
knew
that already? And I thought I was hiding my addiction so well.
What I love more than wacky shoes is cheap shoes. I don't mean Primark cheap, although I do own a couple of pairs for "knocking about in" as my mum would say - I mean a real designer bargain. I was pretty pleased with my
Surface To Air score
the other week, but I think today's buy is the new winner..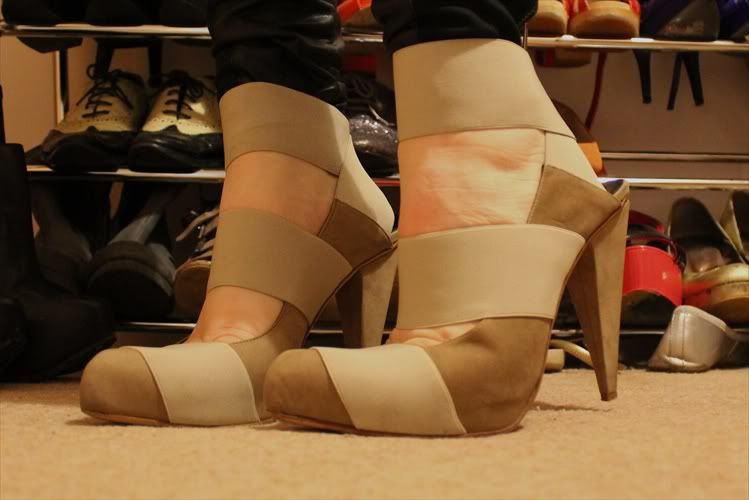 Weird, boat-like, with a discrete nod to ankle braces, I'm in LOVE. These Acne shoes are my new Best Buy coming in at a measly £35 from
Elite Dress Agency
on King Street. I want to move into this lovely little store; currently in the window are Nicholas Kirkwood x Rodarte shoes (if you follow me on Twitter you will have heard me rant about these many a time - I'm just devastated they're size 3) plus inside is a current season Céline wool and leather tunic. Well worth a visit if you're in town, just be prepared to rummage and you're guaranteed a designer steal.
I've been ridiculously busy with university work so far this week, though that isn't a complaint - it's great to get stuck in, finally. I'll be posting whenever I get a breather from writing essays and presentations, but in the meantime make sure you pick up a copy of Stylist tomorrow (if you're not in a distribution area, check
stylist.co.uk
). You may find yourself ogling a very familiar face..!