Growing up Coronation Street was a bit of an instituion in my household, and my parents enjoyed attaching the different characters' personalities to me: for example, demanding "Rosie and Sophie" go and wash their hands. They liked to call me Sarah-Lou the best (it must be the first-name thing) which was fitting as I did enjoy doing the stroppy teenager thing somewhat.
The Trafford Centre launched their Summer of Hope and Glory last Thursday, and Sarah-Lou (or rather, Tina O'Brien) was around to give fashion, beauty and style advice to Selfridges shoppers. I grabbed five minutes with Tina - which actually turned out to be more like fifteen, I could've easily gossiped with her all night - and we talked shopping, Kate Middleton, and patchwork denim..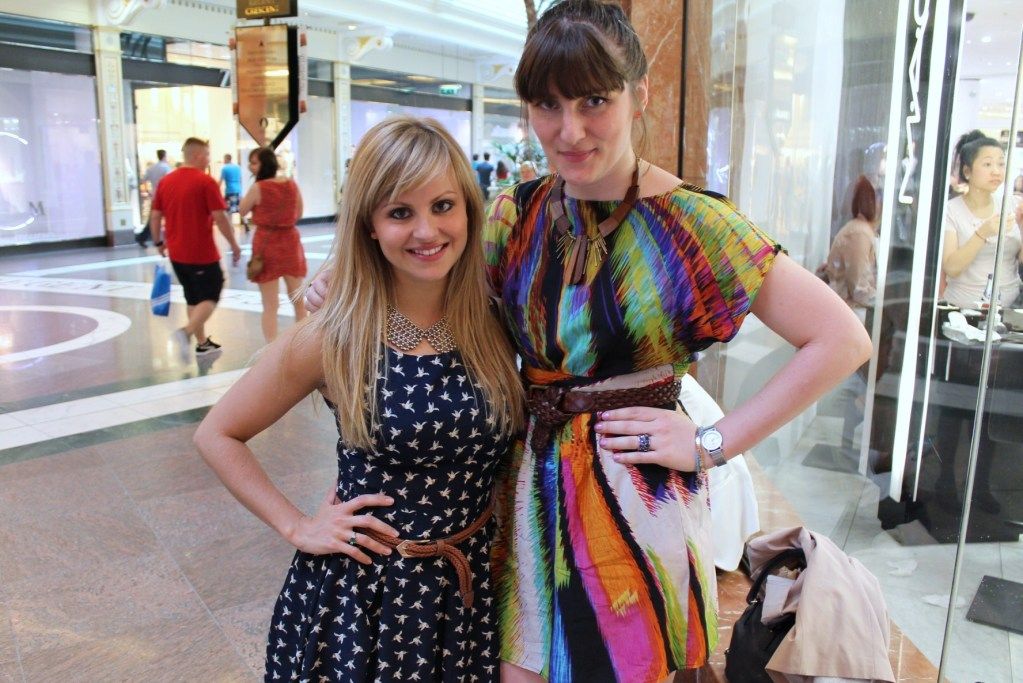 Good evening! How are you today?
I'm very well thank you!
First things first - what are you wearing?
I'm wearing a dress from a little boutique in Didsbury - there's one in West Didsbury and Didsbury village - with some little gold flats. I think my necklace is Topshop.
So you're here tonight to give style and beauty advice to busy mums - tell me a bit more about that.
I think a lot of women end up putting themselves on the backburner when they have a child, so the kind of advice will be to don't forget about yourself!
Do you find you do get time to treat yourself or do you do it in a rush?
People are shocked at how quick I can get ready - I've learnt! But it is nice to every now and again to treat yourself. I didn't realise just how much better it feels just to have your hair done.
How often do you get to go shopping?
Ooh! More often than I should do..?! I probably go clothes shopping.. I'd say on average once every two weeks. Is that bad or good? I don't know! I used to go shopping every week but I've really toned it down, I've got a house now so I more shop for household things. But I did used to shop for clothes all the time - I'm one of these bomber shoppers, who thinks "oh, I just need a top", then I'll be at the changing room with [gestures to an armful of clothes] and end up spending a fortune.
Do you have any secret boutiques to shop in?
In West Didsbury there's some lovely little boutiques, so yeah.. probably West Didsbury! And there's some lovely little bars to go for a drink afterwards. West Didsbury is full of independents - it's brilliant.
Who are your favourite designers?
I love, love Jenny Packham dresses, and I love the dress that Kate Middleton wore with the sequins - I died and went to heaven when I saw that dress.
Where do you get your fashion inspiration from?
I'm one of these people who goes through magazines and folds the corners down of a page and take pictures on my phone and use them when I go shopping. I can never find the things I want though! When Scarlett [Tina's daughter] is in bed asleep, that's my half hour to read magazines.
Has Scarlett shown any interest in fashion?
She does.. but it varies. I'm bad with the whole matching thing. I know at the moment it's very fashionable not to match, but my mum was always very co-ordinated, and I've realised Scarlett is doing it already - she's like "mummy look, pink shoes, pink bag.. I match!" And I'm like, "oh my god! I've given it to you! I got it from my mum, now I've given it to you".
It's hard to clash - it has to be wrong, yet right. So you can't go wrong with matching! She'll be very chic one day, maybe the next Kate Middleton.
But sometimes she comes downstairs in ridiculous outfits and I have to be like "mmmmm! You look really nice!"
But you're encouraging expression! What was the pressure like for you to get it right, with growing up in the public eye?
I think I was lucky in that I started in Corrie before the explosion of all the magazines with circles of shame, so I think if I had been aware of all that when I was fifteen the pressure would have been bad. I didn't have that but God I made some shopping mistakes..!
Which leads us nicely onto my last question - have you ever made any real fashion faux pas?!
Oooh. Me and a couple of Corrie girls once dressed up for an awards do wearing denim jeans with patches all over them, with a bustier. Wait, it gets worse! We then got clip-in extensions. Yeah.. we thought it was cool at the time, at around the time of B*Witched.
I idly threaten to find a picture of this on the internet, and was surprised to be given permission to do so! So here is Tina's biggest fashion faux pas.. I hope she kept the outfit as it's sure to be in fashion once again sometime soon. [
image source
]
Since I dug that photo out I think it's only fair I show you the out-takes of the very first picture, including the Worst Photo Of Me Ever and one with a
cheeky photobombing stylist
.