Clients, press, and bloggers alike attended the
Black White Denim
spring/summer 2012 salon show on Thursday night. Greeted with both champagne and hugs at the door, the friendly atmosphere of the store was the ideal location for this intimate gathering.
Black White Denim's MD and Founder, Jo Davies, explained to the crowd that Emma and Kirsty - the show's models - were both local mums who demanded their clothes be easy to style and hard-working; after all, like most of us, they suffer from a lack of time, along with a passion to look good. Jo considered different challenges a modern woman must face in her day-to-day life, and styled BWD outfits to suit.
Effortless Cool for School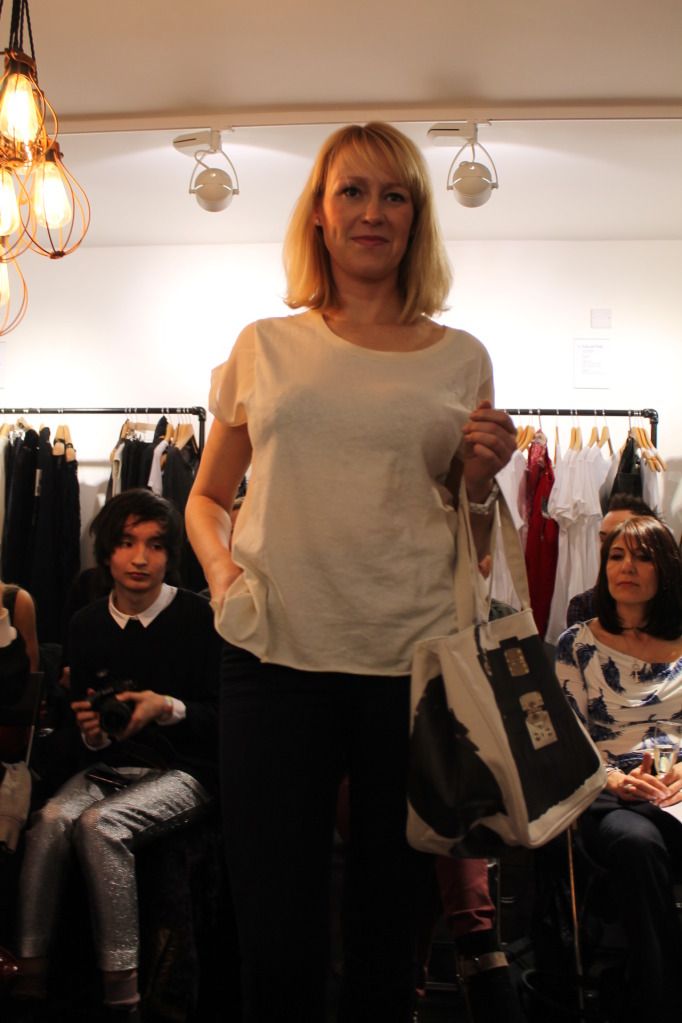 These were touted as classic BWD looks. According to Jo, the
J Brand Maria jeans
(left) are "like wearing a pair of black opaques", and you can go down a size when trying. Bonus. The
Zoe Karssen joggers
are amazing - these were probably my favourite piece of the show. I'd never normally wear sweat pants but the almost-tailored cut and bat print are something special. Styled with modern ankle boots (
rag & bone
on the left,
Acne Pistols
on the right) these cool looks will set you apart from all the other mums at the school gate.
Shop 'Til You Drop
How cute is this
Markus Lupfer knit
? Worn over
811 J Brand Black Cherry skinnies
(DID YOU KNOW: the 8 is the measurement in inches of the rise, and 11 is the measurement around the bottom of the leg! One of Jo's many insider tips) it's a super-easy look to thrown on before a trip to the shops. The
Theyskens' Theory jacket
on the right caused quite a stir in the crowd, with its boxy Chanel-esque shape with a twist; another snippet of info from Jo is that Olivier Theyskens' signature is a "V" shape on the back neckline and back hem of a garment, creating the perfect
hang
. BWD staff had to keep a sharp eye out when said jacket was passed around the crowd for us all to cop a feel!
More Than Just A One Night Stand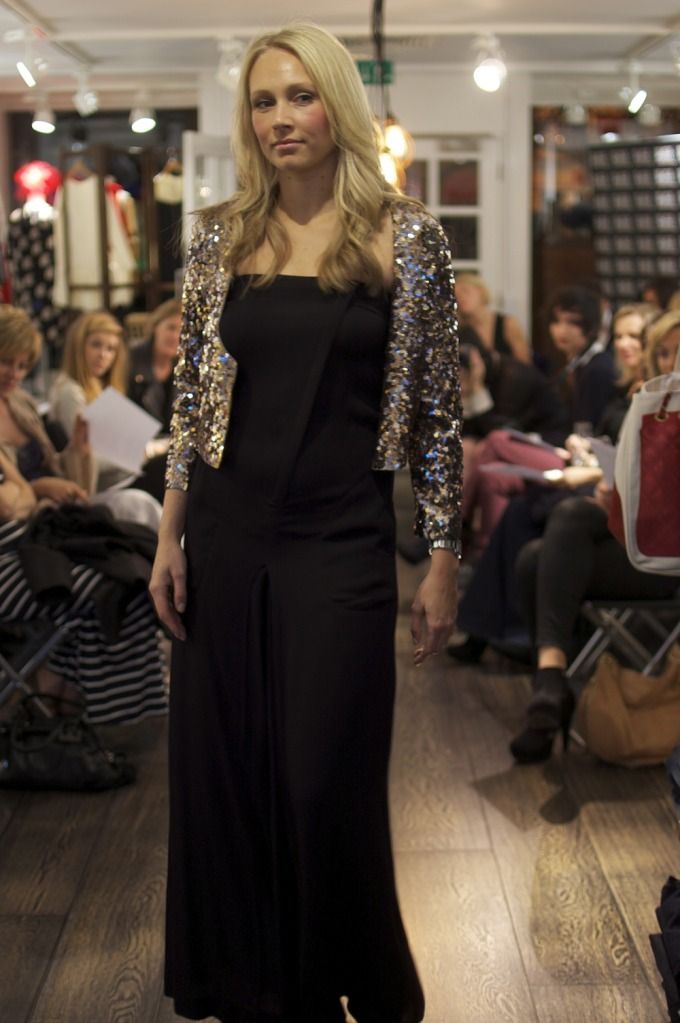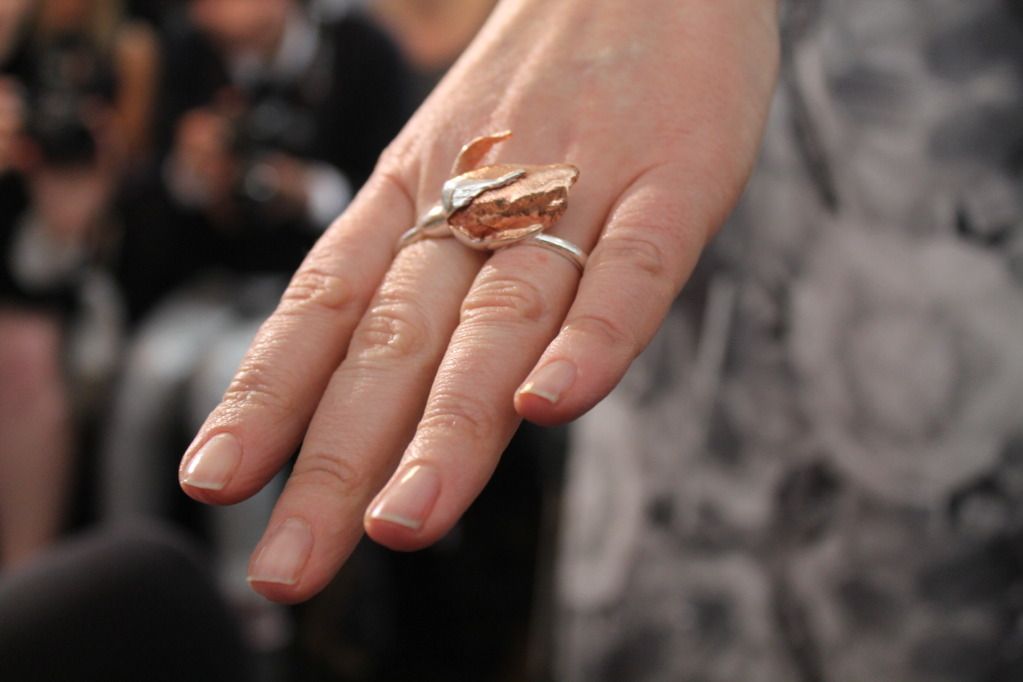 Husam El Odeh ring
Despite its cheeky name, this theme was one after my own heart: yes, you want to get a new dress for a special event, but make it one you can wear again and again, for many different occasions. The digital print silk
Acne
dress may be a showstopper, but its little secret is its pockets; Jo can often feel "stiff and awkward" at a formal event, but having pockets makes her feel relaxed. The second outfit is actually a
By Malene Birger jumpsuit
- the leg split being between the pleat - which again sports pockets (hoorah!) and can be styled alternatively for your hols with a
Theyskens Theory
open-knit top and a pair of
By Malene Birger sandals
.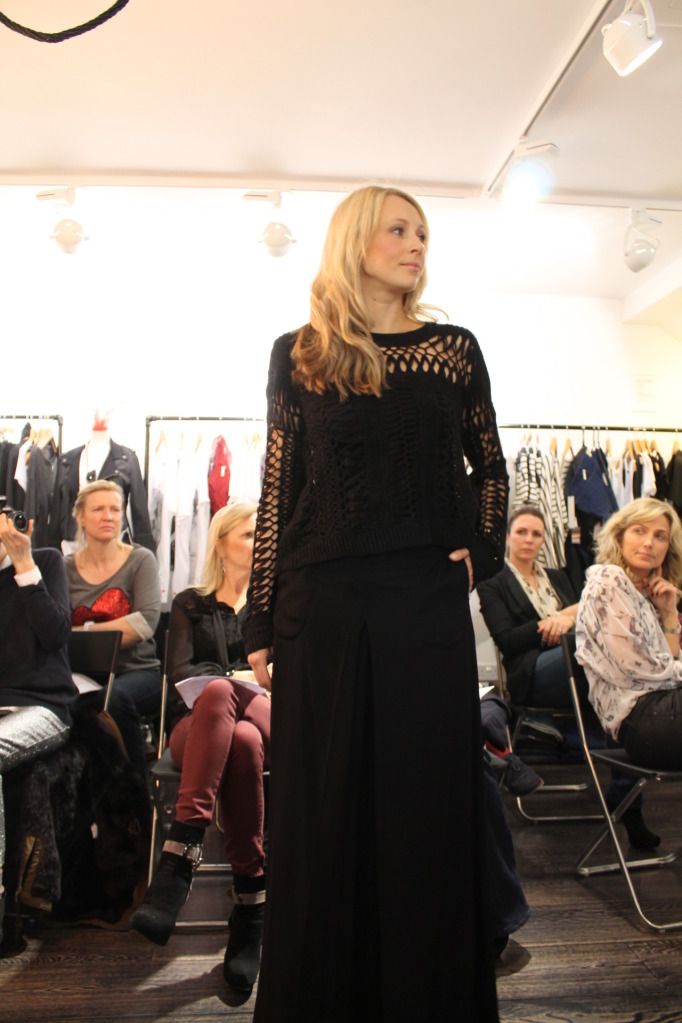 Jean Genius
Coloured denim. Seriously scary, right? Not so with the help of Jo. Take the colour of your jeans and wear a printed top to correspond; here we have
J Brand Rivieras
with an
Equipment shirt
on the left,
Paige Verdugos
and a Theyskens' Theory jumper on the right. For an alternative look, wear with a white tee, or a black blazer from a dramatic style. A word of warning from Jo, however: pastel jeans are difficult to wear, so if you have body issues, they may not be for you.
Cute styling details - ice-cream
Acne Pistols
and a
Cinderela Bee Bea bracelet
.
Queen Victoria
Oh, Victoria, Victoria Beckham. What a career turnaround. From singing dodgy songs with that one from Another Level, to creating beautiful, wearable dresses. Did you know Net-a-porter are the only retailer allowed to sell Victoria's diffusion collection online? That's why it's so special that somewhere local stocks the pieces. The dresses "totally speak for themselves", and the models concur with Jo that they are very comfortable to wear. Love, LOVE the cat print: notice how only one cat is electric blue. Style with electric blue shoes and clutch for a fashion-forward look. Cute!
Come Fly With Me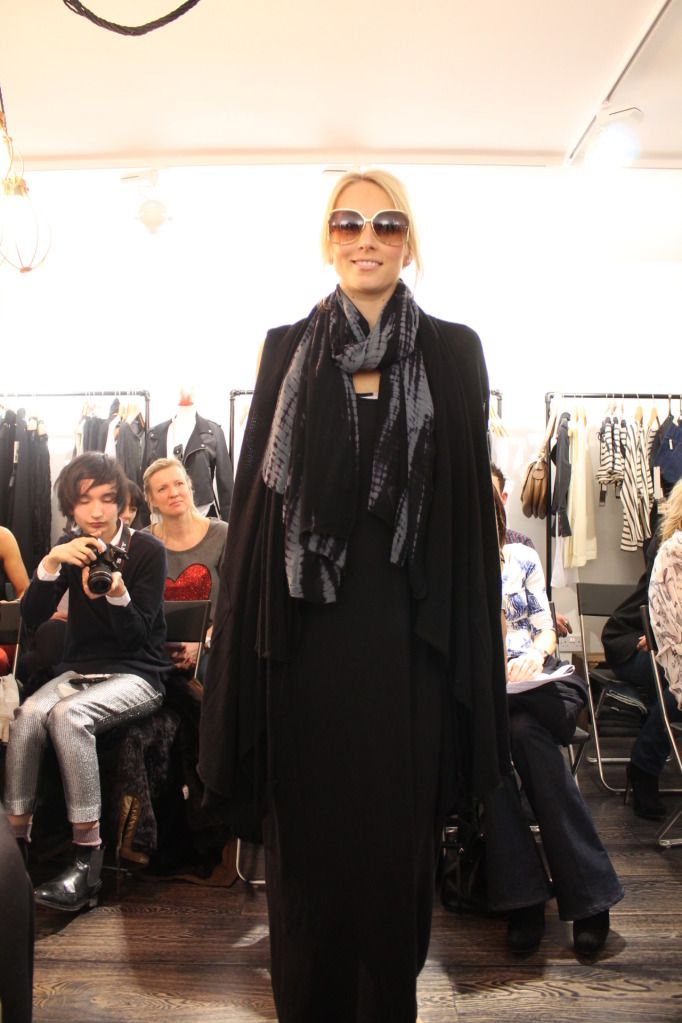 Jo solves the age-old dilemma of
what to wear when flying
by adding lots and lots of layers. Maxi dresses, leggings, cardigans and scarves can all be stripped off and thrown back on as and when necessary, and can also have alternative uses when in the middle of a long flight; as a headpillow or a children's blanket, for example. Get the look with the
By Malene Birger striped dress
and
scarf
(left) and a
rag & bone
maxi dress and
2nd Day scarf
(right). Check out the back detail of the maxi:
I loved how many fashion insider tips and styling ideas Jo gave out during the show, and I do fear I have missed some. My best advice would be to pop into the Wilmslow store and have a really good chinwag with her! Her passion for style and her store are evident. The success of Black White Denim does not lie solely within its beautifully created stock - it is the friendly, knowledgeable service which keeps clients coming back again and again. To (cringefully) paraphrase Cheers, you've got to go where everybody knows your name - and that is not something you will get that from your average high street retailer.
BWD Vibes..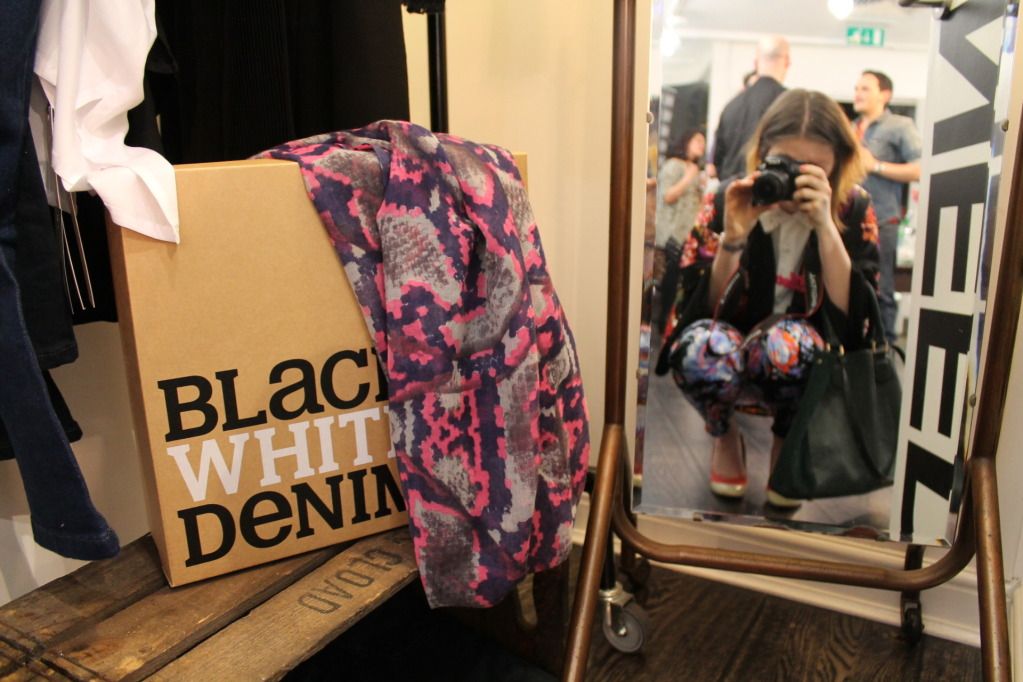 Super-cool store design & VM



Bloggers Pearl & Lawrence loving the BWD collection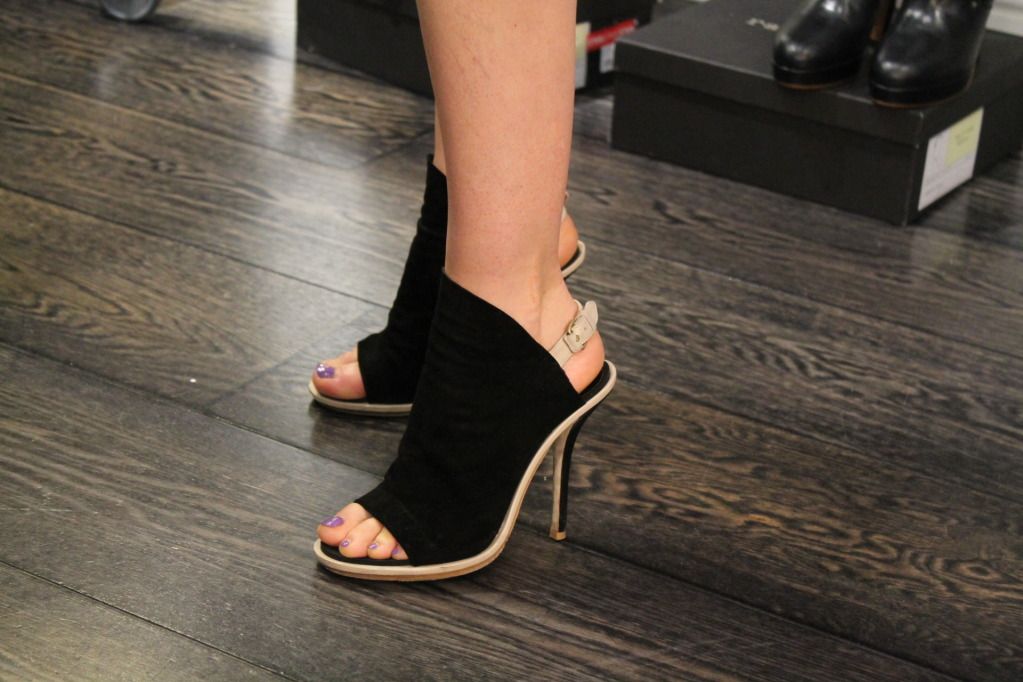 A client's awesome Balenciaga shoes..



..Even more awesome hair from BWD's Libby



Yours truly, with Clare and Lawrence respectively


Can you spotty a Dotty?