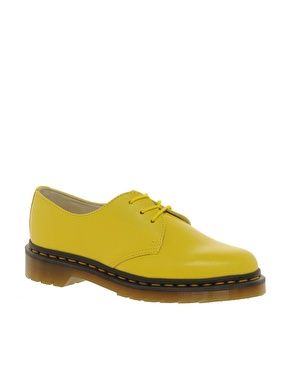 A mere week into my pledge to "buy less", I have bought a pair of shoes. Though being a pair of Dr. Martens I feel they fit the "buy better" and "buy smarter" categories: they will not go out of fashion - for quite some time at least - and will last upwards of ten years. The brand also have a pretty solid
Corporate Social Responsibility policy
, and it appears
some
shoes are still made in England, though it is quite vague which pairs are and which aren't.
Ethics aside, I am pretty crazy about these shoes. Clumpy enough to make pretty dresses look awkward, plain enough to wear with prints, interesting enough to wear with jeans. My ragged heels may hate me as I break them in (I'm informed this can take some time and have been advised to carry plasters) but I foresee myself wearing these with everything. Yellow may not be everybody's cup of tea but to me it is a wardrobe staple!
Teamed with outfits for uni and an event last night - I don't think it's
quite
time for bare legs so wore tights in the end.