Almost a year ago now my boyfriend and I moved into our little flat in Manchester. I was ecstatic to finally be moving in with Chris, after two years of only seeing each other at weekends, and into a city I loved as much as this.
Still, those first couple of months were quite dark, when I struggled to find a (part-time, even) job and spent a lot of time on my own, wandering around the various fashion retail establishments of the city. Purely looking for work. Obviously.
It was on one of these trips job hunting in the Trafford Centre that a very yellow, very blue, and very ridiculous pair of shoes stuck out in New Look's sea of brown pleather. "Interesting", thought I, but I couldn't stick around long as I was embarrassed: a sales assistant had just refused the offer of my CV.
Time went on, I still had no job, though the shoes were still in my mind. I'd researched them on the internet and found they were the product of a collaboration with the London College of Fashion and New Look: the particular pair I was lusting after were designed by Ruth Jones, and were inspired by the circus and Japanese street style. However, from my internet snooping I discovered the shoes were sold out all over the country. "Nevermind", my deflated inner Imelda Marcos thought, "it was not to be".
Oh, but it was. On
another
CV-proffering trip to the Arndale Centre, the now-familiar blue-and-yellow colourway caught my eye from the other side of the store. There was one pair left. In MY size. And that day New Look were offering 20% off. I am in no way recommending anyone does this, but I spent the last drop of my money on them. It was
fate
; how could I not? (luckily I got my job at Oasis a few days later - fate too? - and my student loan arrived not long after. Phew)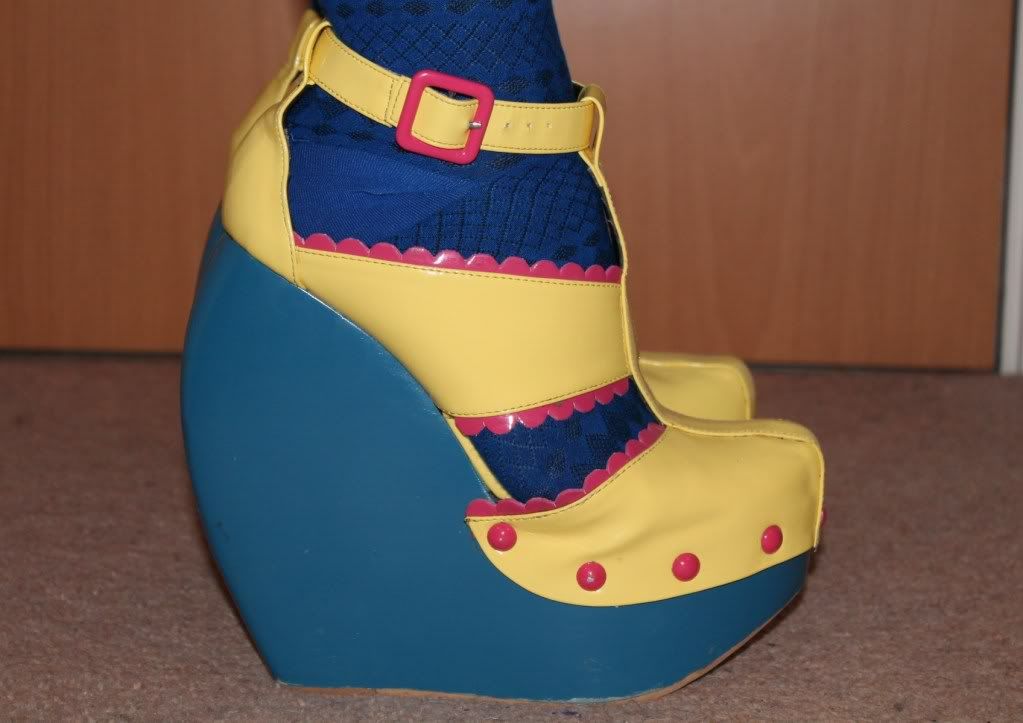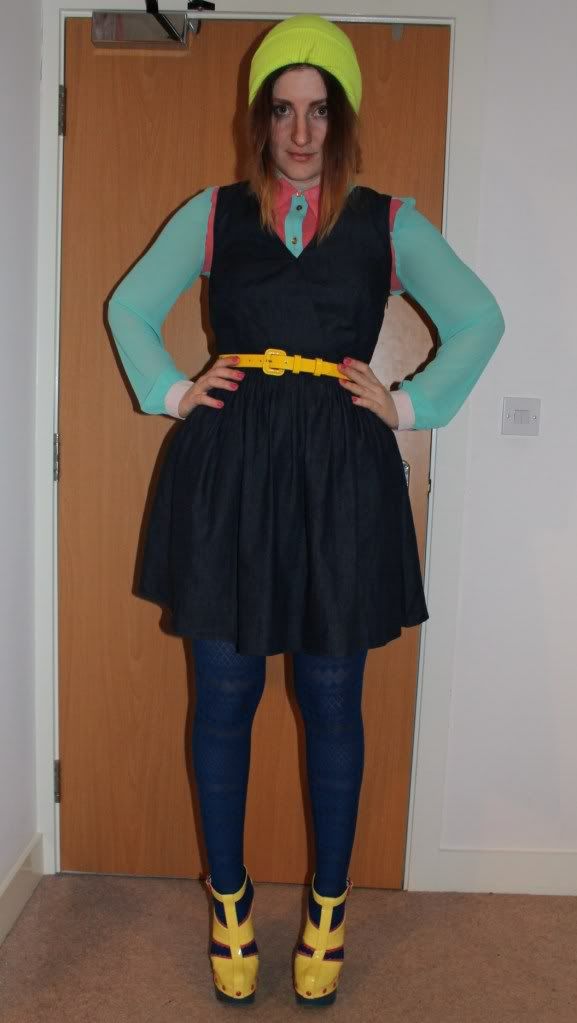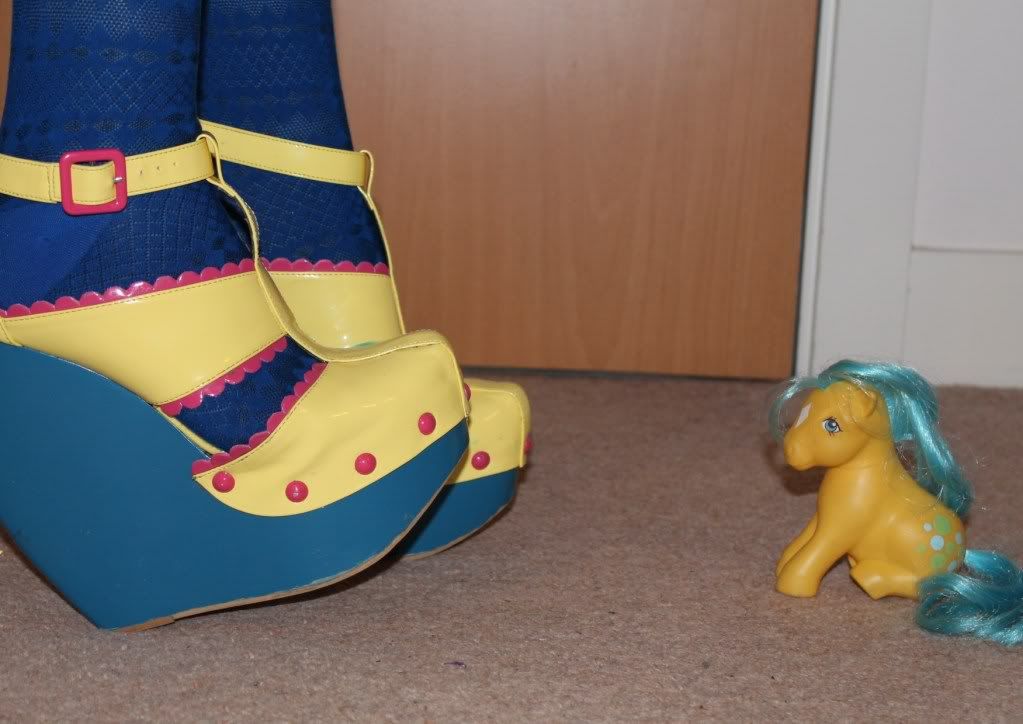 Shoes are not the be-all and end-all of happiness, I am more than aware of that, but this pair represent the proverbial light at the end of the tunnel for me. Choosing my favourite pair of shoes would be like choosing my favourite child (or cat, in my case), I love them all dearly for different reasons. This pair stands out in my heart and mind as a shining beacon - so brightly coloured that this metaphor could almost be literal.
That rather long-winded explanation of how I came to own these shoes was just the preface of the purpose of today's post. I'd been sat around my flat, wearing said shoes (yeah, well.. they're difficult to wear outside, okay?) when I began pondering about Ruth Jones's further work, and what she was up to now.
The result of my search was far from fruitful, though I did find one further collection of Ms. Jones's: Parasite, her Cordwainers
MA Fashion Footwear
graduate collection. Here's the blurb from the
London College Fashion Showtime
(where the following images are also from):
The collection focuses on the production of 8 pairs of shoes which collectively and cohesively collate in concept from parasites and alien behaviour through attachment of foreign materials acting as foreign organisms and impregnated shapes.
The collection explores the aesthetics of conceptual design processes, displaying intricate pattern pieces, professional levels of finishes to foldings and padding details challenging the pre-conceived idea of the default form from last to foot bringing the 16 pieces behaving abnormal, similar in structure to parasitical development in movement and shape.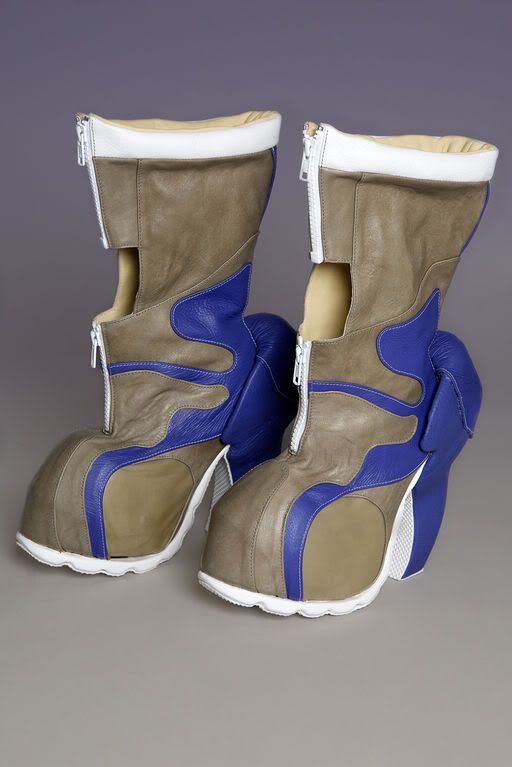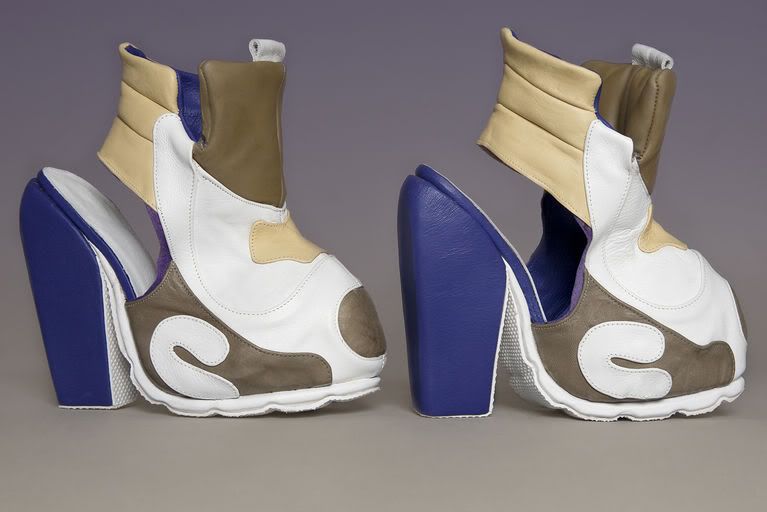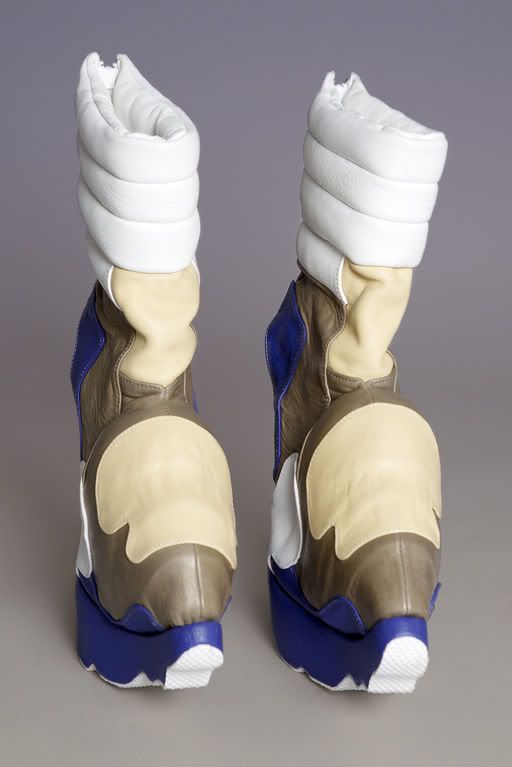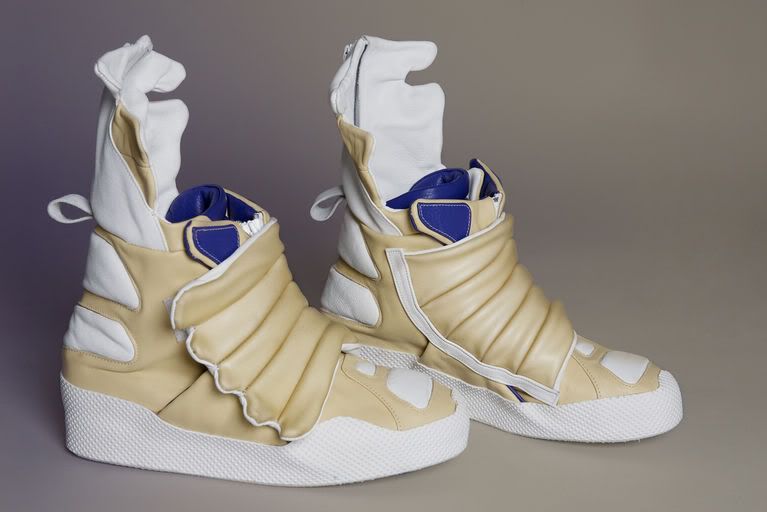 I can see where the parasite idea came from (I once watched an episode of The X-Files where a giant blue parasite wormed its way around the filthy sewers. It scared me for life) though I'm also getting
caveman-cum-spaceman
. Imagine a cavewoman cobbling together a pair of shoes with rocks for a hot date with Ugg, and you get the taupe and white slingbacks. I can also see Ziggy Stardust wearing the thigh-highs for a quick jaunt to the moon.
What is Ruth Jones up to now? I can't find out! ("What an anti-climax", thinks the reader) The internet, for once, has failed me. If anyone reading this has any information please let me know. I long to see more of Ruth's designs, and ultimately I wish for more unusual shoes to go to retail!