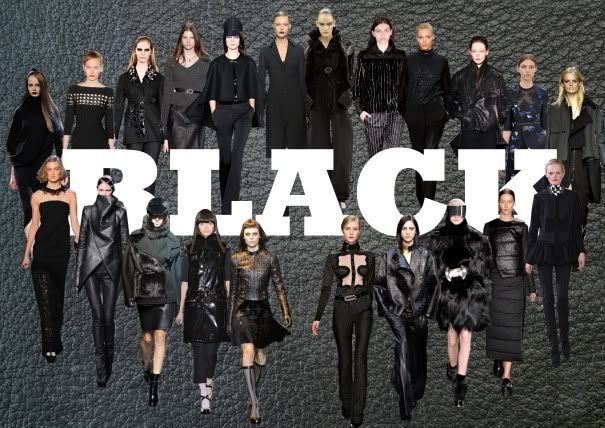 Is fashion's eternal optimism waning? Not for many years has the colour - or lack thereof - black been so prevalent in fashion month's autumn/winter collections.
The past few seasons have been full of headache-inducing brights, attempting to convince us that
this
will be the year the economic climate improves. "You'll be spending your money on me before the season's out!", screamed the yellow Versace mini dress. "Distract yourself from your money woes with our highlighter hues!", came the cry from Christopher Kane's neon army. Even this season's pastels are encouraging us to overindulge on their sickly sweetness, like when you've eaten an entire bag of Haribo Starmix in under a minute and you fear to move in case you see them again (... just me then?).
This autumn/winter show season designers have realised that escaping the recession will be a long, hard slog, after the Bank of England predicted a "slow and uncertain" 2012 (
The Guardian, 2012
). Almost every collection contained at least one all-black outfit - from Prada's uncharacteristic sombre silhouettes, to Versace's return to their former vampy glory, and Alexander McQueen's hairy mammoths.
One thing is for certain: the textures are varied, and the textiles are luxurious. These designers are not playing it entirely safe, not just yet.
Collage by me, images from style.com