Synchronise your diaries, fashionistas of Manchester! Over the next month there are plenty of opportunities to clear space in your wardrobe, add to it for bargain prices, do your bit for charity, and satisfy your arty urges.. all whilst looking fabulous, and more than likely supping on a goblet of champagne.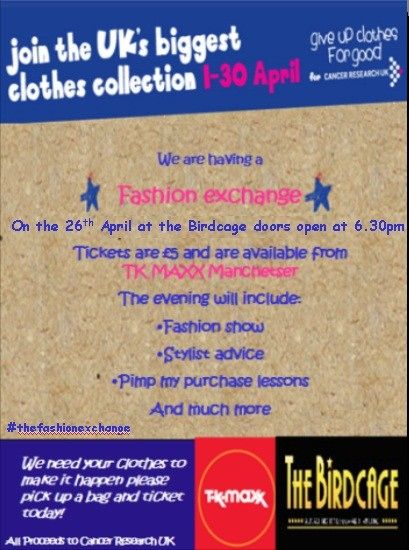 Do good and look good with TK Maxx's Fashion Exchange evening at the Birdcage, Manchester. I'm sure you all have plenty of clothes lurking in your wardrobes you no longer wear (not me..
not any more
!) so
Give Up Clothes For Good
in aid of Cancer Research UK. A £5 ticket gets you access to the fashion show, stylist advice, "Pimp My Purchase" lessons, and of course the clothes swap - free to those bringing three items of clothing or more to swap, £2 an item to those without. The more
tickets to this event are sold
, the more items of clothing
Pearl
pledges to swap. Seriously, girls..
have you seen this lady's wardrobe
?!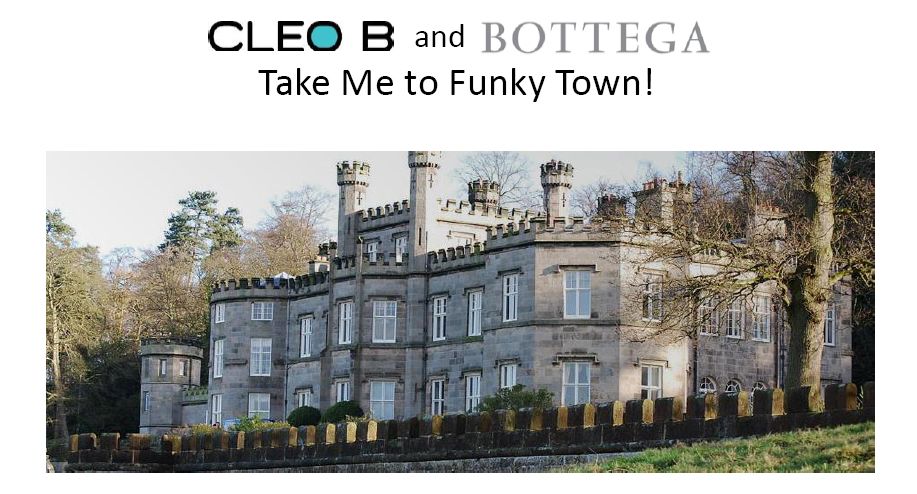 If you fancy heading into disco territory on the 26th then
take yourself to Funky Town
- or rather the heart of Cheshire, where independent boutique
Bottega
are holding a 1970s-inspired glamorous fashion show. Designers featured will be London-based cordwainer
Cleo B
, swimwear designer Melissa Odabash, and cool girls' go-to We Are Handsome. The fashion show begins at 7.30pm at Bolesworth Castle, Tattenhall, and is in support of Claire House Children's Hospice.
I'm a big fan of indies and this is actually only ten minutes from my parents' house, so I am doubly excited about this one. Cleo B will also be holding their spring/summer shopping event in the Castle on the 27th & 28th.
Another independent doing their bit for charity (take note, multinationals!) is Wilmslow wonders
Black White Denim
. BWD add a dash of pink by collaborating wth the Genesis Breast Cancer Prevention appeal by holding a two day sale at The Nightingale Centre & Genesis Prevention Centre at Wythenshawe Hospital, offering upto 60% off brands such as Acne, Carven, and rag & bone; only all of my favourites, then. With catwalks at 11am and 1pm on both days (featuring professional models and cancer conquerers) and 10% of each sale going to the Genesis Appeal, this is sure to be a day of feel-good fashion fun. I also heard a rumour of a celebrity appearance or two.. but you didn't hear that from me!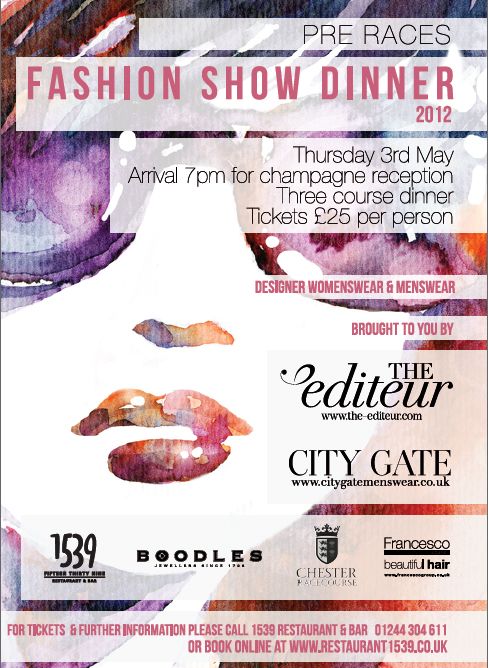 Racing season is well and truly upon us, next up being Chester Races. Chester-based boutique
The éditeur
are holding a pre-races fashion show on the 3rd, showcasing picks from the very best of races style. After browsing through
their website
I found a refreshing mix of designers (such as Michael Kors, Tibi, Halston Heritage, Sam Edelman and Rebecca Minkoff) and I look forward to seeing them styled up on the runway. The éditeur's niche is beautiful underwear, and they believe your undergarments should be the first consideration when dressing. Despite mainly owning faded Marks & Sparks unmentionables I agree; nothing spoils a perfectly put-together outfit like a visible panty line, or even a visible bra line.
Enjoy a three-course meal plus fashion show at Chester Racecourse's 1539 Restaurant & Bar, priced at £25, booked through
restaurant1539.co.uk
.
After a successful foray into musical endeavours
, Spinningfield's Emporio Armani store are dipping their toes into photography exhibition. From the 4th-7th May 'Icons from Woodstock' will exhibit an exclusive selection of portraits by American photographer and artist, Elliott Landy. Ever heard of Bob Dylan, Janis Joplin, Jimi Hendrix, or Eric Clapton? ("yeah,
duh
", I hear you say) Well, these guys were merely rising stars when photographed by Landy. In 1969 he was official photographer for Woodstock Festival, where he created portraits using a special procedure invented by the CIA - infrared - with a strong contrast of bright colours. Eat your heart out Instagram.
I am so excited for the next month in Manchester, and I hope that you are now, too. This is to become a monthly feature on Fashion Dotty so if you would like me to include your event for May-June, please
drop me a line
!