Surrealism

, n. Pure psychic automatism, by which one proposes to express, either verbally, in writing, or by any other manner, the real functioning of thought. Dictation of thought in the absence of all control exercised by reason, outside of all aesthetic and moral preoccupation.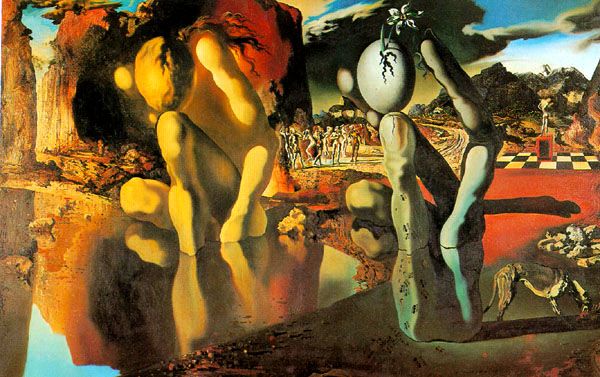 In the 1930s Salvador Dalí created an installation for America's Bonwit Teller department store entitled "Narcissus". It was soon removed due to complaints from the general public; clearly it was far too outrageous for its time. Although no photographic evidence of the window appears to exist it can only be assumed the display was inspired by Dalí's painting, "Metamorphosis of Narcissus" (1937).
One also guesses the new Harvey Nichols Manchester displays was inspired by Dalí's paintings and the works of other surrealists, such as Delvaux, Magritte, and and Kahlo (top to bottom, below). The windows are utter dreamlike perfection, featuring tree people in D&G, skeletons in a Givenchy-clad clinch, and mannequins chillin' in Burberry next to an awesome interpretation of "The False Mirror".
This is by far my favourite window display I've seen - and as a visual geek I've travelled far and wide to see many - and I am so proud to say it is in my home city of Manchester!