Right guys, please don't be shocked, but I am going to use the naughty "b" word now.. Hold onto your hats!:
BLOGGING.
Blogging is the swear word of fashion media. To some, it is everything; others abhor it. Me? I started Fashion Dotty as a means to an end, but now it is more like an unpaid, all-consuming job, although when people ask what I do I still pull a face and put on a silly voice to say "I'm a blogger".
(NB: at London Fashion Week, if you are not a stylist, buyer, journalist or such, it is de rigueur to answer "I'm a blogger" when asked what your occupation is)
I'm ever-interested in the whole
blogosphere
- what drives it, where it is going - so was curious to attend The Fashion Network's evening with Navaz Batliwalla - aka blogger
DisneyRollerGirl
- last night, chaired by Manchester's premier fashion blogger,
Jordan McDowell
.

First up was a question about naming your blog. It was pleasing to hear that Navaz struggled to name her blog, too; she has a fascination with 1970s roller girl imagery, but unfortunately "RollerGirl" was taken: so another interest, Disney, was tacked onto the front. I think we can all relate to this - you struggle to find a name that isn't taken, and find yourself stuck with something, anything. Darned Internet.
A gorgeous image from Navaz's Shoots tab
Navaz studied fashion promotion & illustration, and, like so many others, didn't get her dream job as soon as she left university. After years of work experience, working as a fashion assistant, then going freelance, she got the call we are all waiting for - come work as fashion director of CosmoGIRL! During her time at the magazine, Navaz started her blog - which was anonymous for the first three years - which began as a way to showcase her work and interests which did not fit the CosmoGIRL! demographic. PRs started sending emails to the anon blog's address and opportunities arose, so Navaz decided it was time to go public - as well as realising she was providing an honest opinion, which readers trusted her for, but "why should they trust you if they can't see your face?"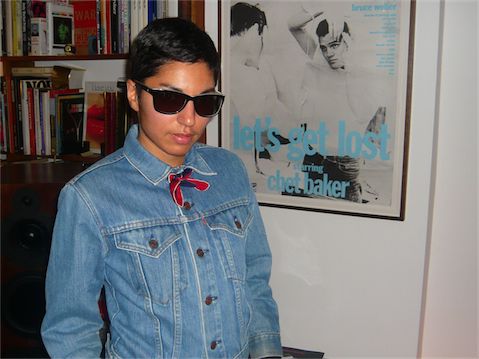 There are not that many pictures of Navaz's face on the internet, but rest assured she is petite and unintentionally super-cute, with the most adorable lisp. Her way of speaking made me warm to her, and she spoke a lot of truths regarding blog views (namely, don't worry about them), brand-blog relationships, and self-promotion. Most bloggers have it in the bag, with their multi-channel approach; Tweeting, Tumbling, and Pinning, to supplement their blog posts, which should come "whenever YOU want". Navaz stated that you have to stand out to take your business forward. You can take that statement as a retailer, designer, or blogger; concepts like in-store galleries and social media stunts (such as Jonathan Saunders'
#ShowUsYourSaunders
hashtag, which Navaz thought was "quite sweet") are things that have stood out recently.
All great points well made, I thought. DisneyRollerGirl believes the best blogs are those with varied content from day-to-day, posting about stuff you love; love that shows through in your writing and photographs. I think you can take this further by exploring subjects you are
genuinely
passionate about with your blog; treat it as a giant sketchbook, exploring ideas and sharing them with like-minded individuals. I don't think this is easily done with sponsored blogs, or those who are sent items for free. As @
Fashion156
tweeted today, "sponsored blogging is going to kill the credibility online media has established. #ReadersAreNotIdiots".
So where am I going with this blog post about blogging? I'm not entirely sure. What I do know is that I need to start being proud to be a blogger. Bloggers are both guinea pigs and power-houses, pushing the fashion industry forward with their style and opinions, however well formed. Blogging should no longer be an embarrassing word, but a word to be encouraged and celebrated.