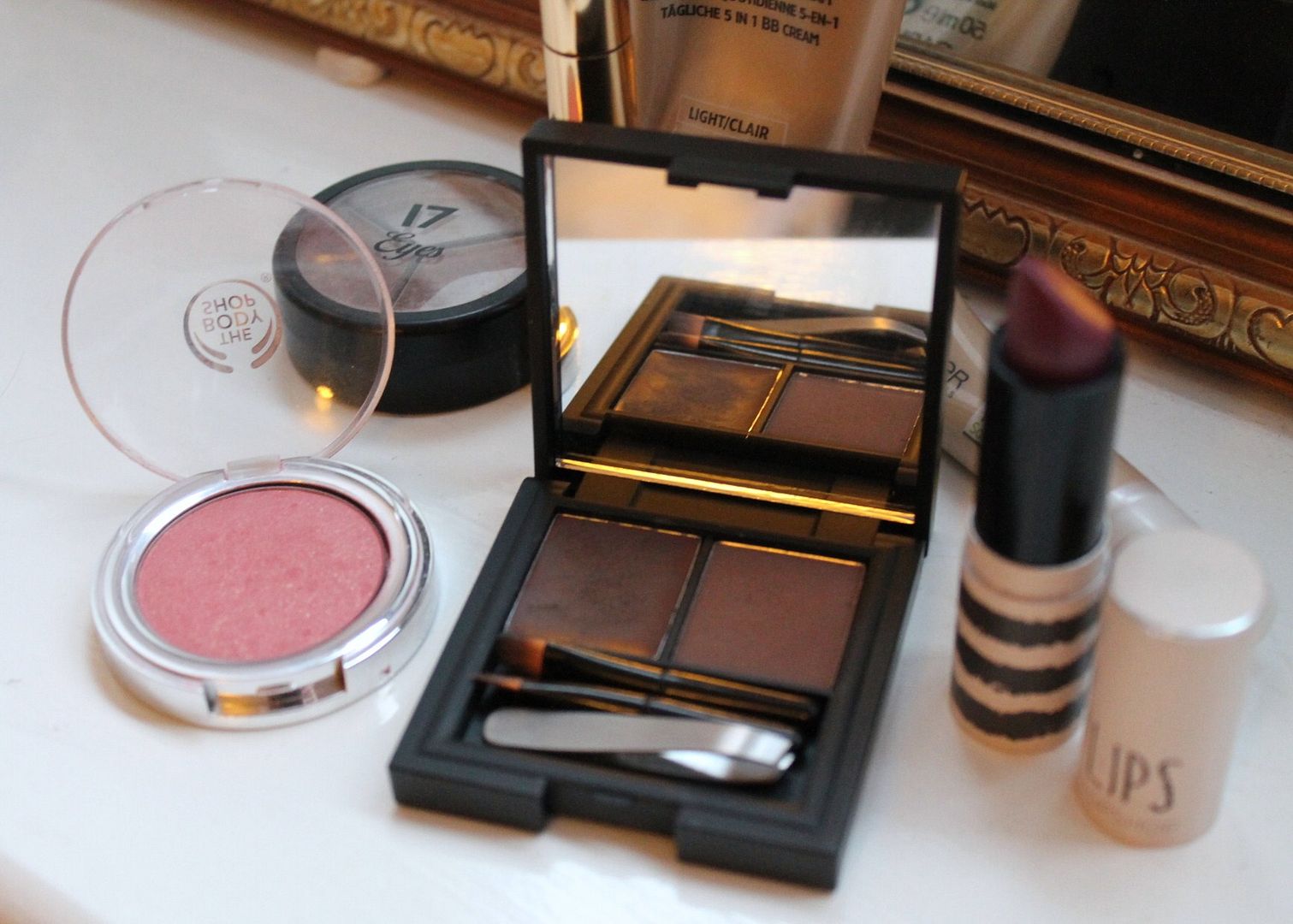 From my first foray into make-up (Boots' 17 white liquid eyeliner, blue mascara & orange eyeshadow, FYI.. worn together) until very recently I never had favourite make-up: that is, items I'd buy again and again. I never liked anything enough to not try something new the next time,
just in case.
Beauty blogger I am not, but now I am so happy about my make-up routine that I feel the need to shout about it!
The introduction of BB creams were the turning point in face make-up for me. I don't like foundation as I find it too thick, so I was using a tinted moisturiser which wasn't quite enough, but a BB cream is ideal for twenty-somethings' skin as it provides light, dewy coverage. I'm on my third
Garnier BB cream
in Light now and I'm pleased to report the under-eye rollerball is just as good! I went off wearing pink blusher for a while in favour of Benefit's Coralista, but when that ran out I had this Body Shop blush on emergency back-up. I'm glad I started using it now as it's the ideal colour for adding a slight winter flush to my cheeks.
For my eyes, every day I wear Yves Saint Laurent liquid eyeliner - having tried many different application types, a brush is my favourite - and the
17 shadow trio in Nude
. I wear the taupe every day, with the oyster as a highlight and the dark brown as a shade. I still haven't found my ideal mascara so I'm open to suggestions here!
My Illamasqua brow cake
is now too dark for me since I went blonde, though the brush application was a revolution for me. I'd heard good things about Sleek's eyebrow palette and I can confirm it is pretty great. I use the powder with a bit of wax for everyday, and the wax for going out, when I know I'll be dancing (and potentially glowing. Or perspiring. Or just out and out sweating). I even prefer the tiny brush to my Illamasqua one - it picks up more product and is much quicker to apply.
The finishing touch for me is
Topshop's Inhibition lipstick
. Their lipsticks are hit-and-miss for me: the colours are bright and highly pigmented, but they dry my lips and settle into fine lines. This one is great though, lasts for ages and doesn't dry your lips. I think I'll be trying
Depth
next.
So that's my make-up routine. Simple, and the same every day. Leaves much more time to decide which bonkers outfit to wear!