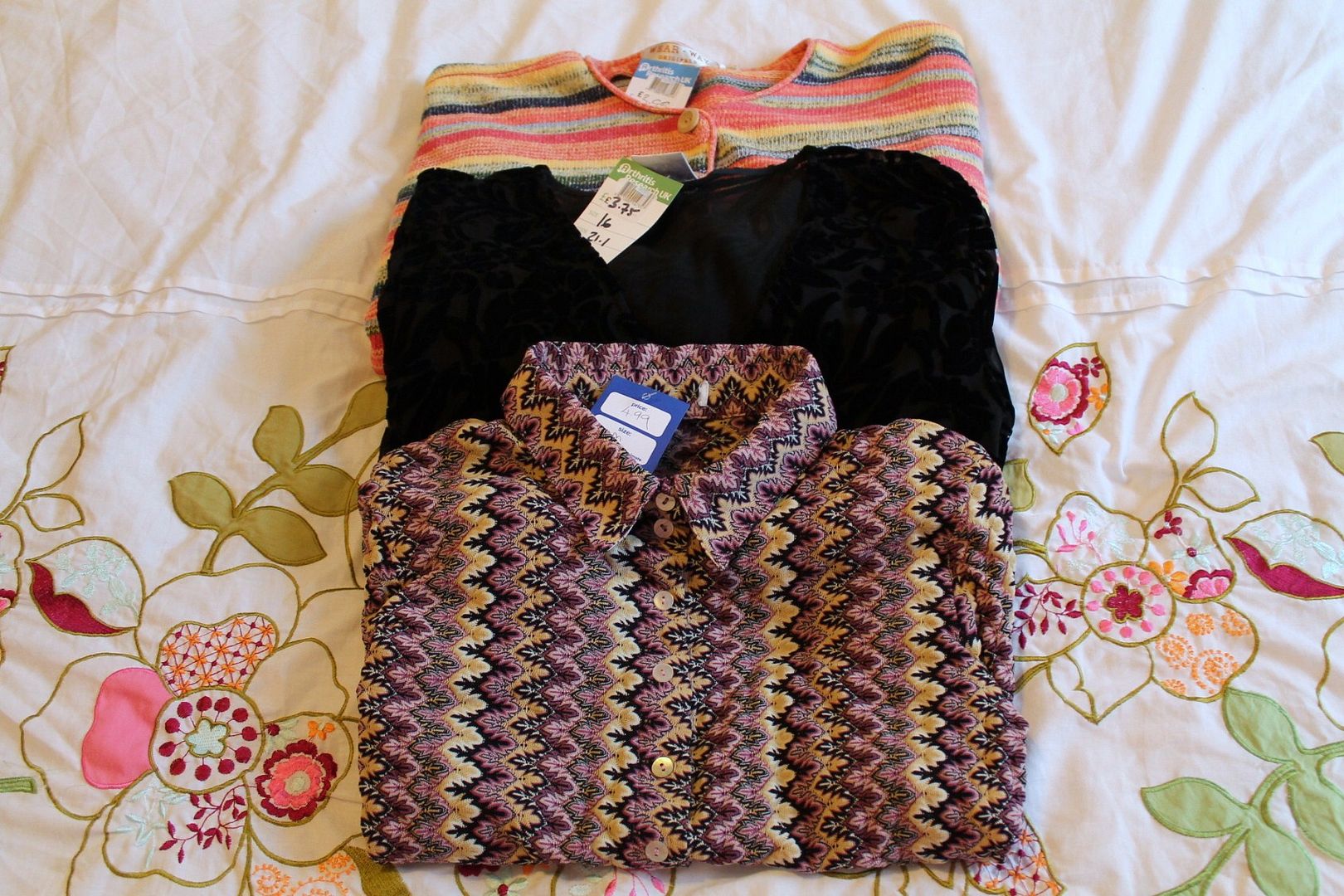 Yesterday my dad had an operation, so in-between visiting times my mum and I went to Crewe centre, the town where the hospital is, to keep ourselves (and our minds, particularly) occupied. Honestly, there's really not much in Crewe. It's one of the high streets hit particularly by the recession, and is now mainly full of pound shops and empty spaces.
However it does have a plethora of charity shops. I find charity shopping nowadays you will mainly find bobbled, mis-shapen Primark, as thanks to Trinny & Susannah and then Gok so many people did huge wardrobe clearouts, meaning all the really good vintage and retro stuff went years ago. People now just get rid of naff stuff that was bought for one wear then disposed of. For some reason the people of Crewe were never a part of this, and are still trickle-donating their 1990s cast-offs. Thanks to my questionable taste this is great for me, and I always get a good run here; yesterday was about quality not quantity and I got three pieces I can see myself getting good use out of in spring!
I love this weird stretchy blouse thing - it reminds me of autumn/winter 2012 Prada - and sadly enough I can remember these tops being in places like New Look the first time round. Or rather second, as they are 1970s throwbacks. Same goes for the stripey cardigan.. does anyone remember The Sweater Shop? I had a variety of their jumpers I mainly wore for
best,
for dinners with aunties and friends' birthday parties. Seriously.. who has kept these things for so long? Feasibly I can only imagine fashion people wearing these ironically. The velvet burnout shirt is an enormous Laura Ashley number, but I thought it would look great as a kimono worn over tees and shorts in the summer.
If you're thinking of a trip to Crewe then my favourite charity shops are the PDSA, Oxfam and Arthritis Research UK! Henning is particularly pleased by the PDSA, as you can see. As I type my dad is sat waiting in the discharge room, and everything went okay yesterday. He
does
have another procedure next week mind, so I may well be hitting these chazzas again soon enough...