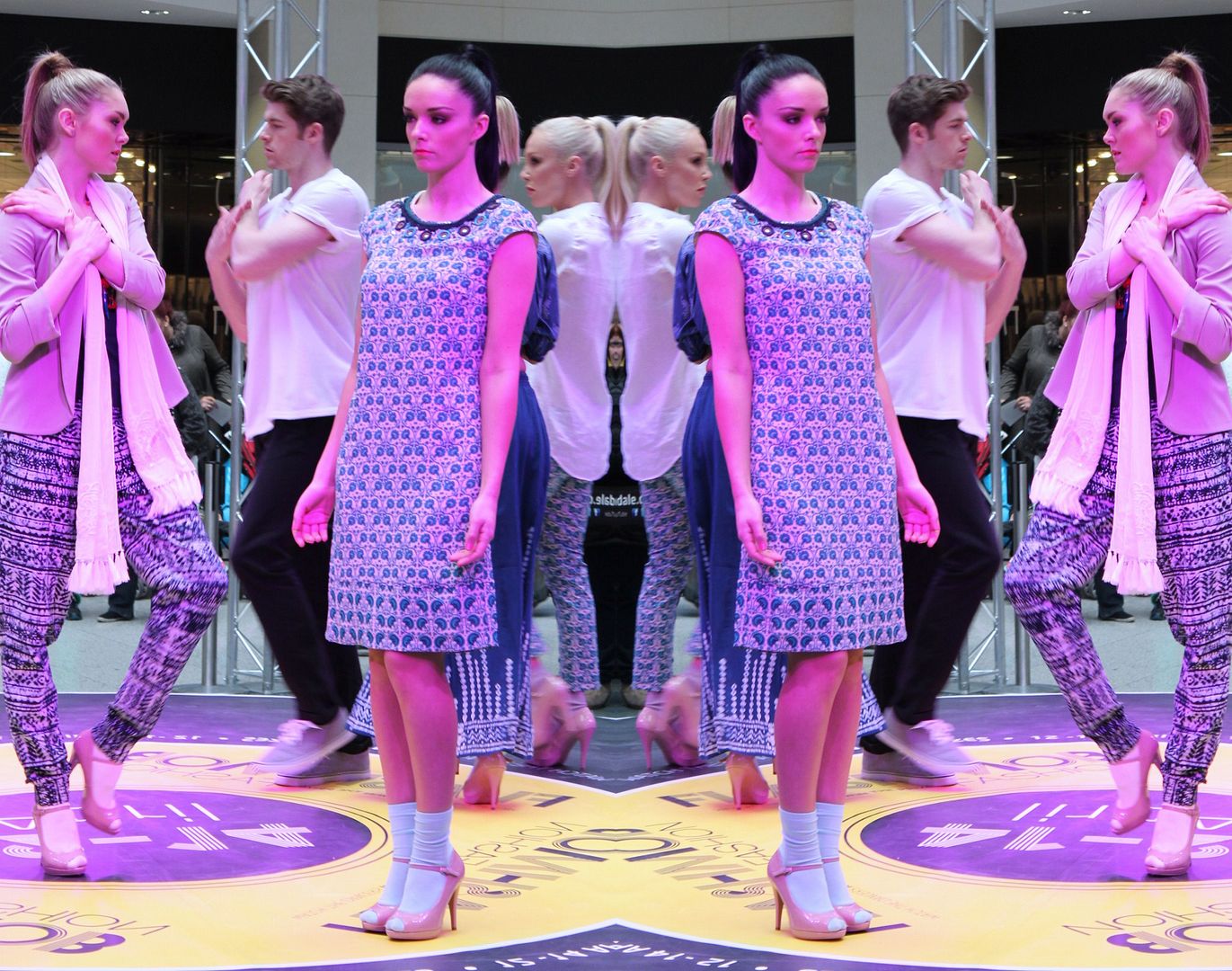 Working in retail, the phrase
drive footfall
gets bandied about an awful lot. Usually from head office, when your figures aren't quite as high as they think they should be, and they expect
you
to do something about it. So you bake cakes, buy booze, make cute little cards that say "20% discount" on them, and expect the crowds to come flooding in.
They don't. It's so hard to inspire the generally apathetic public to attend such events, let alone part with their hard-earned cash. That's why I was so enthused to attend Manchester Arndale's Fashion Flash Mob on Friday. Every twenty minutes, all weekend, there were flash mobs of dancers wearing a different retailers' clothes, then straight afterwards said retailer was offering a discount;
plus
envelopes were handed out during the dances, one containing a number winning a hefty voucher for the store. You only found out by going into store though, to find the winning number on a board at the back of the store - some clever merchandising going on there. The dances drew large crowds, curious to see what was happening, and those crowds actually translated into footfall for the retailers featured.
I was
so
impressed by the organisation, how well thought through it all was, and how many retailers enthusiastically got on board. I stayed for two hours (but could have easily, and happily, stayed longer) and saw two dances, plus spent time in the pampering area of Halle Square. I found my perfect No. 7 foundation match, using the smart gadget you see on the telly ads, and also had a lovely Hotel Chocolat hand massage. No.. not with chocolate, but with their skincare range which was equally delicious to their chocolate.
Things that fashspired me most from the flash mobs: Vero Moda's cute white fluffy jumper (would go perfectly with my white shoe
problem
obsession, plus dungarees, pouffy skater skirts, jeans, just.. hi) and the ice cream socks with nude shoes. I immediately hit Topshop to replenish my pastel sock supply.
There are further such events planned for Manchester Arndale, so let's hope they continue to
drive footfall
in such a fun, inspiring way.
(yep.. I got it. It was always gonna happen)