Hello!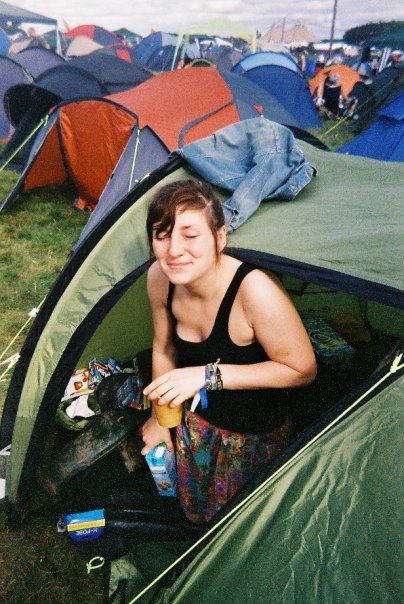 We have arrived at the time of year, dear reader, where you may decide to pitch a tent in a muddy field, drink beer, and dance like a loon. Many happy memories will be made at this time - dependent on the amount of beer consumed, of course. Sadly, I fear my days of festival-going are over, until I can stay in a luxury hotel for the course of the festival, being ferried to and fro each morning, freshly showered. The majority of festival fashion blog posts are not quite as realistic as
Hello, Terri Lowe
: whilst in my hotel-staying fantasy I could wear practically whatever I want, Terri cites a kagoule and wellingtons as your most important items to bring along to your festival outing.
I, however, am immersed within this luxurious festival fantasy, and my ideal festival kit is slightly more ridiculous. Keep your muddy mitts off my Versace! Don't let your wellies near my Wildfox! The tee is quite apt as Woodstock would have been my ideal festival to visit: three days of peace and music is right up my street.
But worry not, readers, I haven't always had such delusions of grandeur. I've been to many different festivals over the years - my first Leeds festival I spent entirely in a t-shirt and shorts, and at Gatecrasher in 2008 I wore about three coats and tracky bottoms all weekend due to the horrendous weather. Funnily enough the best festival experience I've ever had was when my little home town of Northwich held Whatfest in 2009. The only band of note playing were Dodgy, but that didn't matter - because all of my friends were there, the beer was reasonably priced, and actually if you got
too
wet you could just get your mum to bring you home for a shower and be back on the festival site within the hour. Perfect.
Sadly the festival made a loss and hasn't been held again, but I will always have the memories of the fantastic weekend, and the photos of the quite frankly bizarre outfits I chose to wear. I think the best rule of festival fashion is that if you can't have a bit of a chuckle at your outfits when you get home, then you didn't do it right.