Whilst Goldfinger may have had to wait a long time for Mr Bond to tie dye anything (that man never has any downtime; plus I'm not sure it sits so well with the suave look) I have been rather keen on dying, bleaching, ripping, cutting, and studding my clothes as of late. It's mainly because I've been craving a fresh look without the budget to match, but also it's a whole lot of good clean fun.
So a request from Lois at Carrot Top couldn't have come at a better time: Dirty Fresh Laundry wanted to send me a brand new t-shirt, then I was to customise it in any which way I could. YES. Basically a licence to go crazy.
When it arrived it looked like this:
The t-shirt is of an excellent quality, totally opaque, and the print is the sort that will age pleasingly. Just a heads up on sizing: I'm a 10-12 on top and this is a men's small. I ordered in that size as I thought I'd have a little extra fabric to play with but it's quite fitted, so just a warning for when you order.
First things first - protect your bath, or wherever you choose to tie dye. I don't want any mums or landlords after my guts! The binbag in my bath was fairly futile but it did help a little, and whenever I got dye on the porcelain, floor, or anywhere, I cleaned it up straight away - you just don't know how it will stain, and you're better safe than sorry, no?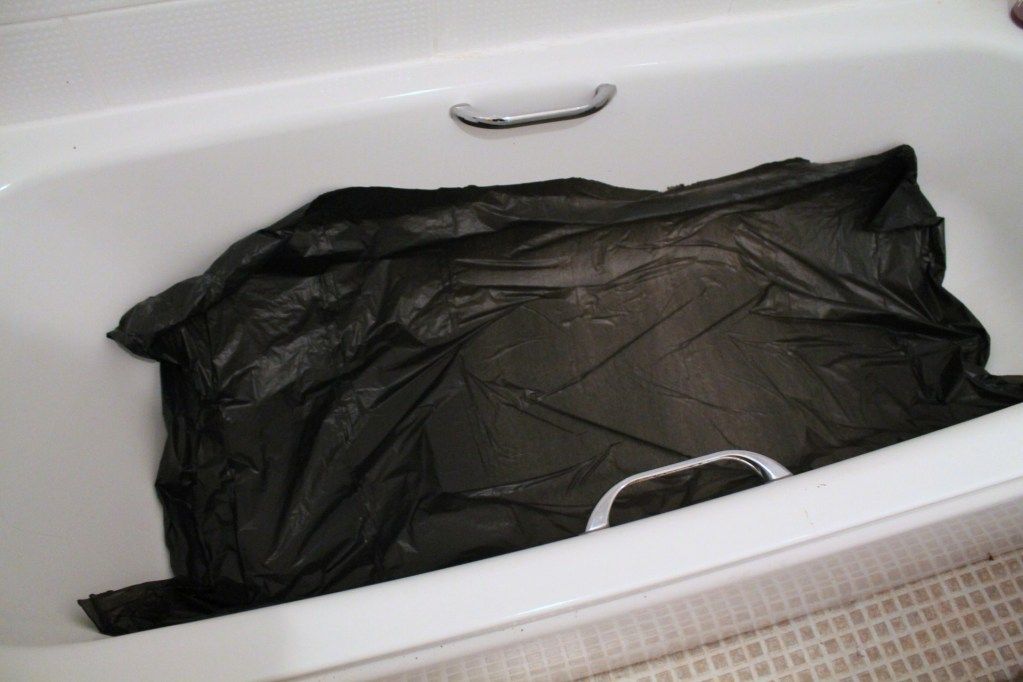 After that I prepared my t-shirt. I followed Shannon's advice - holding the tee in the middle, spin it around so it's like a coil. Tie bands or string around to keep in place. The tighter you tie, the more white space will be left.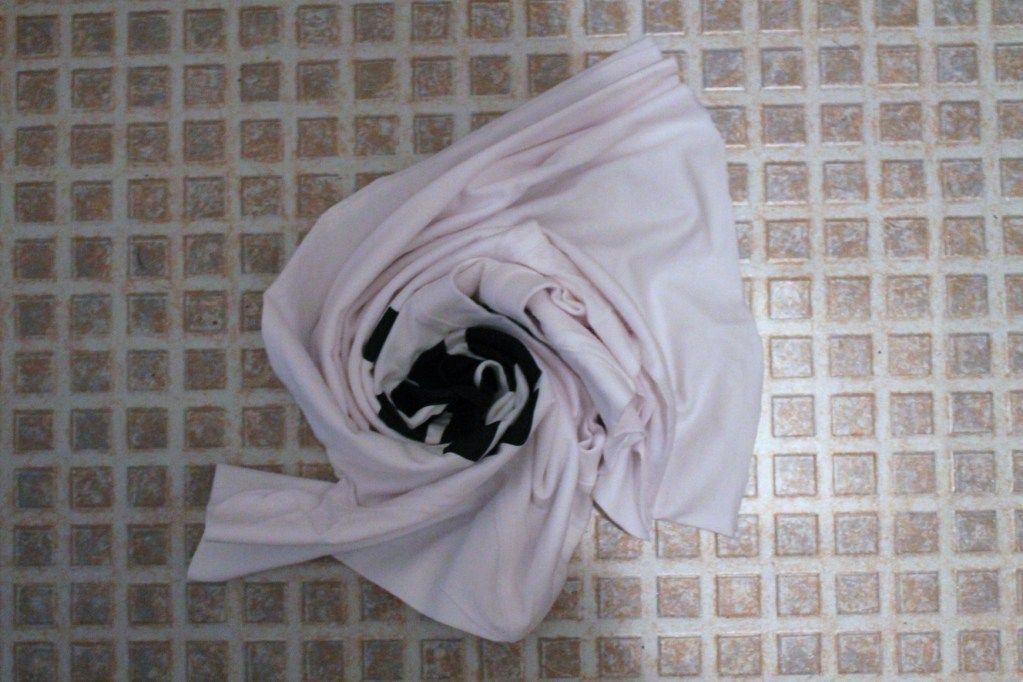 You can be as creative as you like with this - when researching tie dyes I found
this page
and loved all the different dye shapes, so since my boyfriend has been nagging for a tie dye tee for a while, I decided to experiment a little with the shape of his.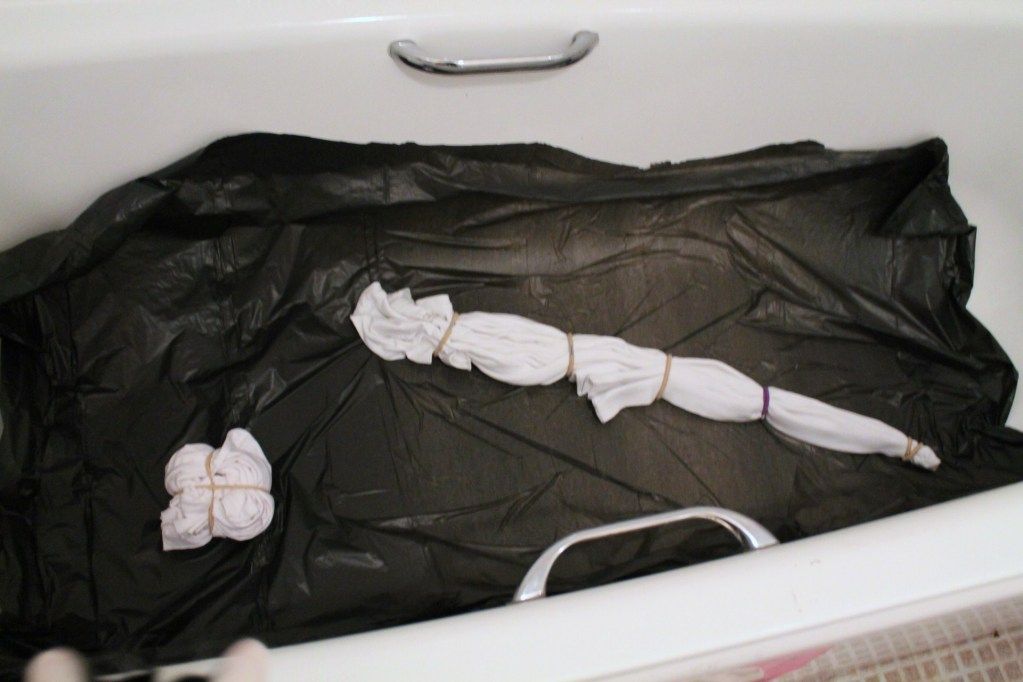 Now it's time to make the dye. Glove up! Again, the dye might stain your skin, or worse - you might be allergic to it. Be careful.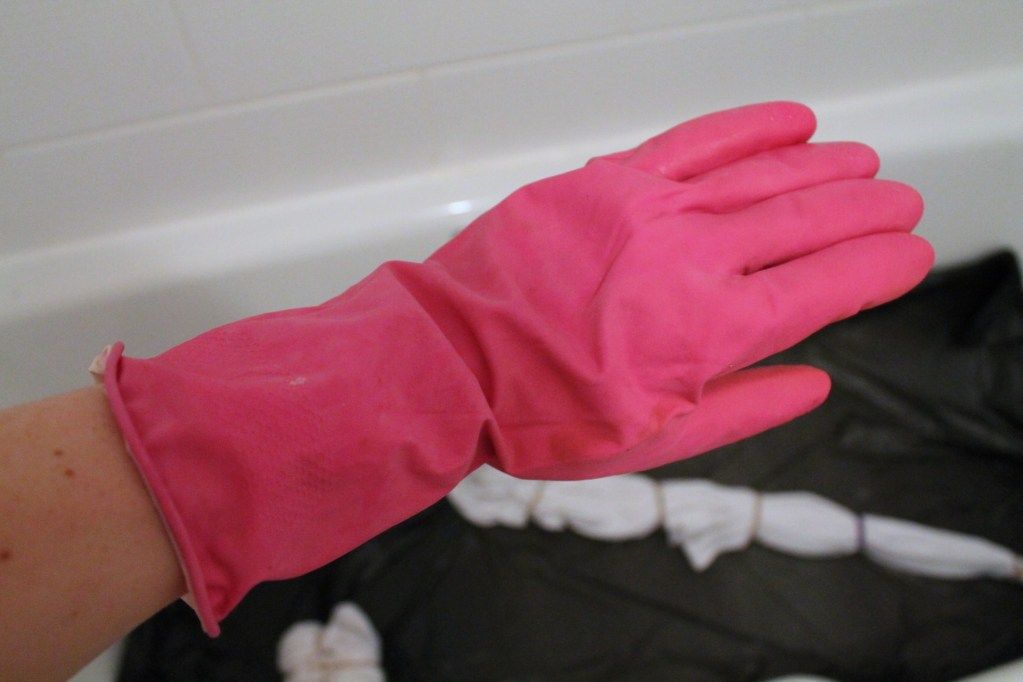 I could only find Dylon machine wash dyes (is it me or are dyes harder to find now? In my teens I'm sure I could pick them up from the supermarket or my local chemist. Anyway, I digress) in Flamingo Pink and Ocean Blue, so I made them up in bottles with sports lids (another great tip from
Shannon
). I only had one sports lid bottle so carved a hole in a normal lid. Again, be careful! I used one part salt, one part dye, and four parts warm water.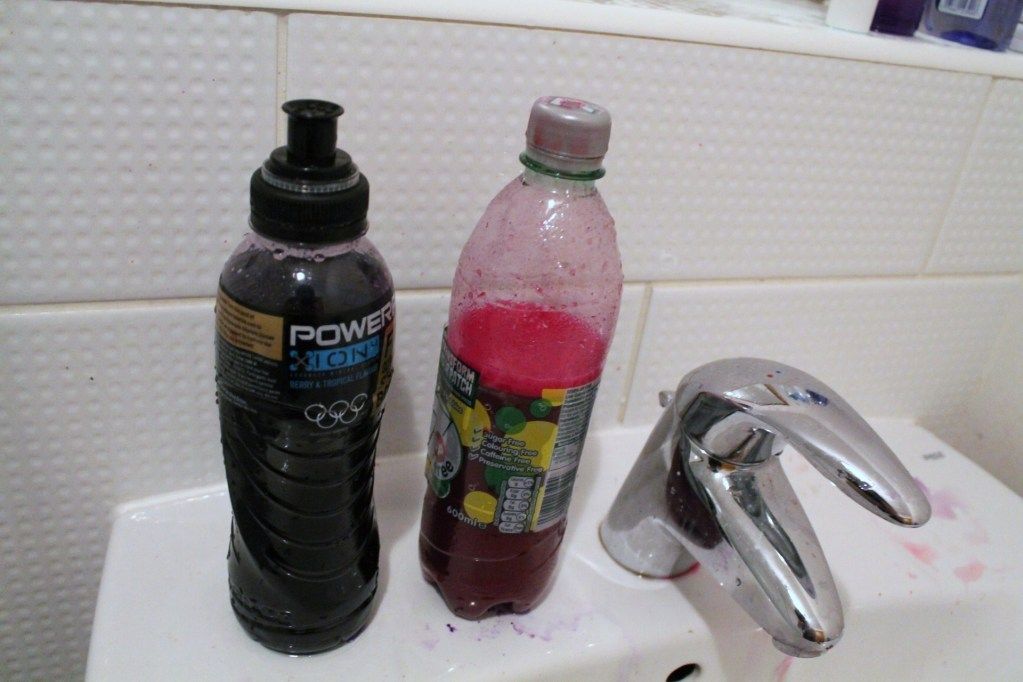 Then I attacked my tees with the dyes. I began gingerly but ended up throwing the two full bottles over two t-shirts. I unravelled them to check how I was doing - the long, thin patterned one looked amazing how it was, but the spiral one needed a bit more colour. I opened it out and added more colour to suit.
Leave your tee for at least an hour. I left mine all afternoon, conscious of the fact I'd used machine washing dye! I don't have any space in my flat to hang them - especially due to our cream carpet - so placed them in buckets. Use this time to clean the bathroom, think of outfits to wear with your tee, have a brew, daydream about Michael Fassbender.. you get the picture. Then rinse, using a little bit of fabric washing powder or liquid.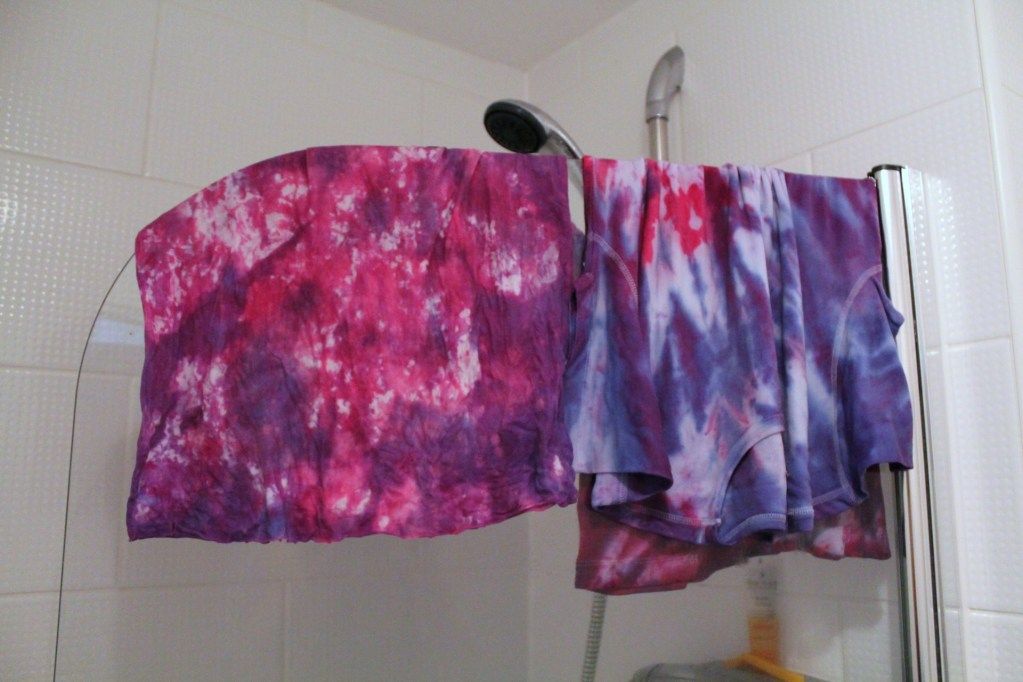 After waiting all afternoon I couldn't wait any longer so bunged them in the tumble dryer after they'd drained for ten minutes. My brief from Dirty Fresh Laundry was to customise this tee in any which way possible, so a few knots and studs later, my tee was finally finished.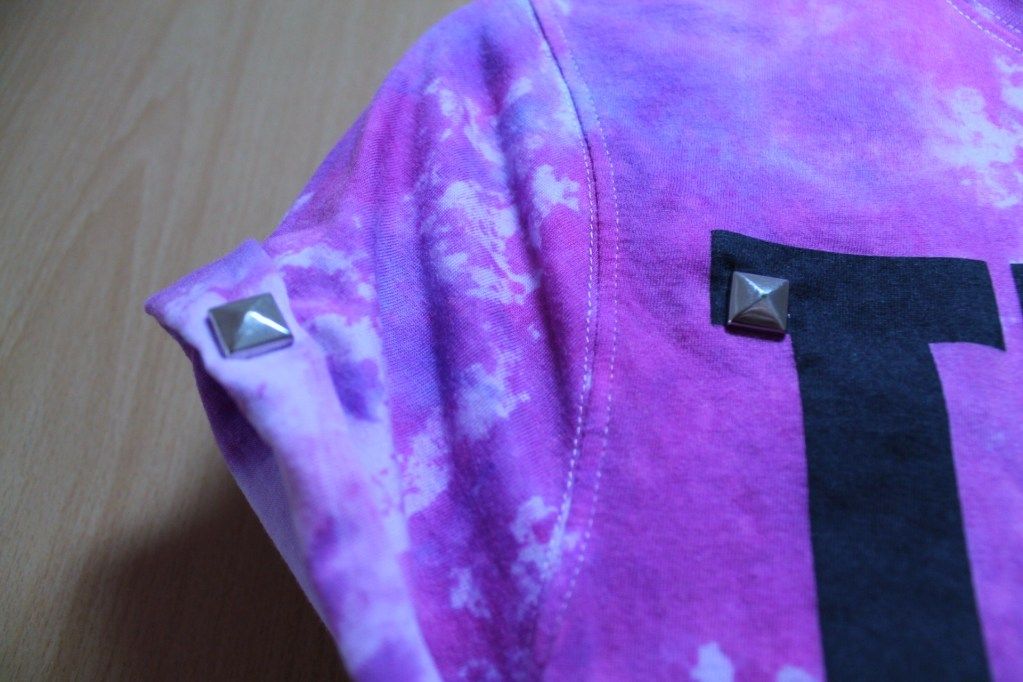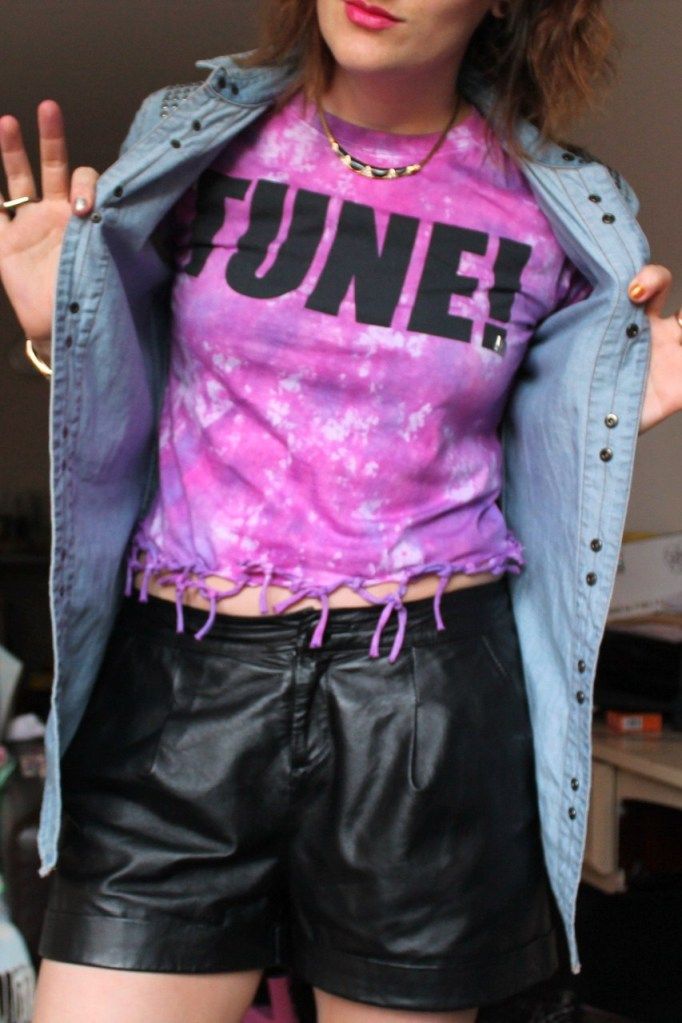 This tee will almost certainly be most at home on my next trip to Ibiza.. but until then will make the perfect layering piece.
I really think the key here is to
have a go
- I haven't tie dyed since Brownies and even then I probably wasn't responsible enough to do any of the process. Admittedly I like the pattern on my boyfriend's tee better - I will have to get him to model it - but the beauty of tie dye is that you're not completely sure how the pattern will work out. Let me know if you do try, and send me pictures of your dye pattern!