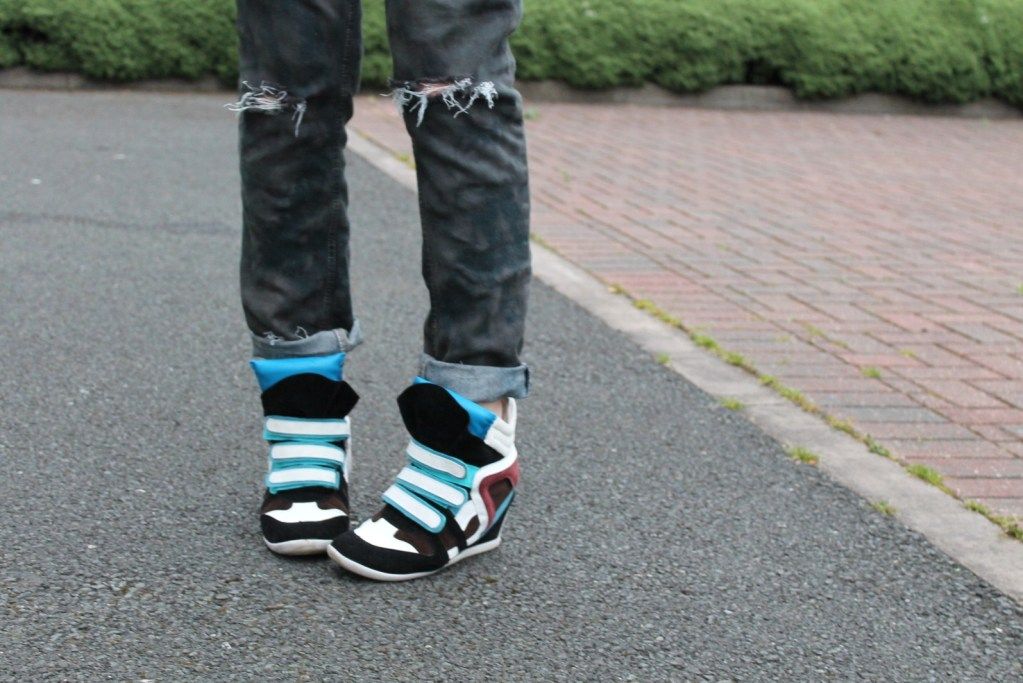 Yeah, so I totally caved in on my longing for sneaker wedges. WHAT CAN I SAY, I have very little willpower when it comes to matters of the sole. I perused my options online like I was choosing a fine wine, but ultimately my shortlist became more like choosing cheap fizz from Aldi; I predict these shoes will reach fash-saturation point soon so I didn't want to invest too much (as much as I craved the Isabel Marant pair).
This pair are from Boohoo; initially I didn't want carbon copies of the Bekkets but these were the pair I was drawn to the most. I love the colourway, and these shades go with most items in my wardrobe. At work today I received reactions from "those are AWESOME!" to "I like your little boot things, they're.. er, different". A day's retail work is the real test for any pair of shoes and I'd give these 7/10 for comfort. The wedge heel posed no problem but they are fairly narrow, so ended up rubbing my little toe at the very end of the day.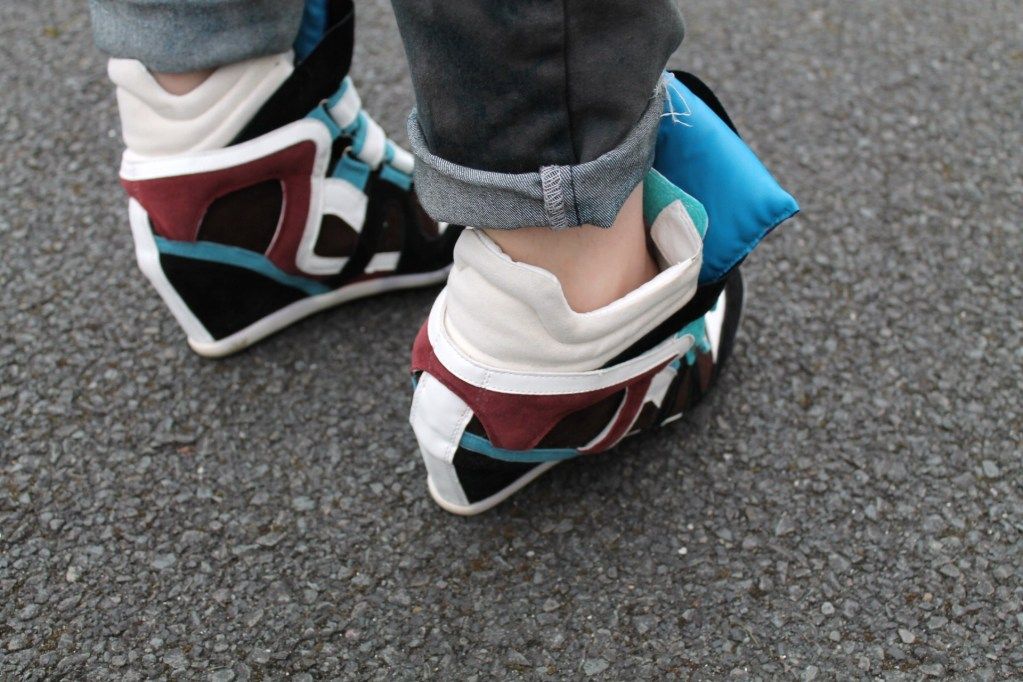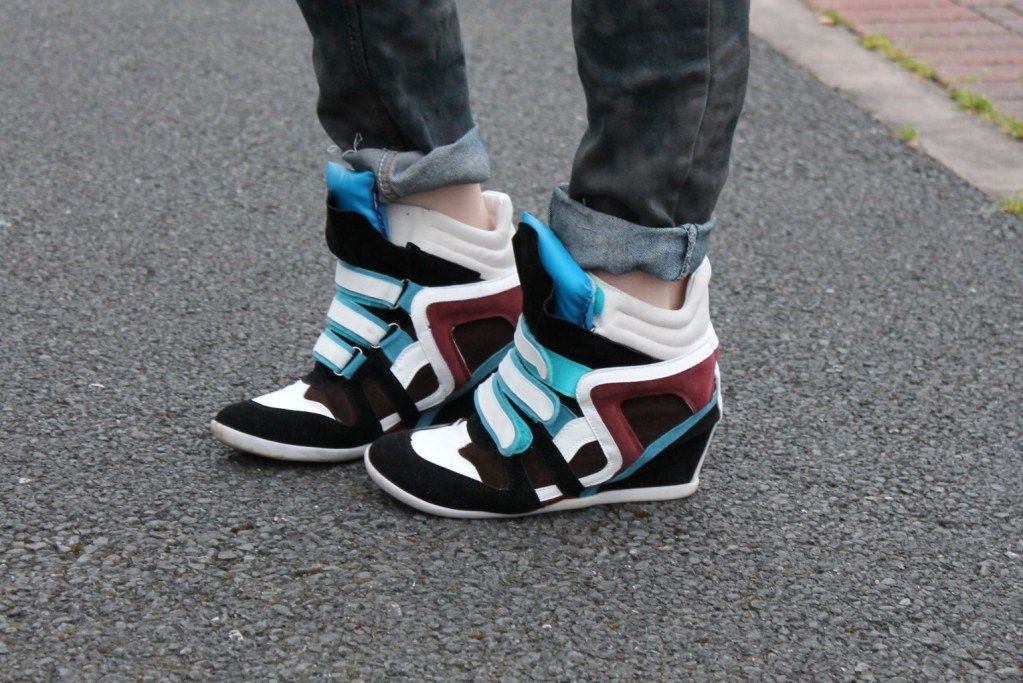 I've been leaning towards a slightly tomboyish, slightly hippy style lately, and I'm happier with my look than I have been in a long time - I'm tired of slavishly following trends and trying to stand out. I've been busy routing through stashed away clothes to re-style them and customising, too - these jeans started out life as Oasis Cherries. Being a denim despiser I was not impressed last year when I was told at work I needed a pair of jeans for uniform, to coincide with Oasis's relaunch of denim. "Jeans just don't fit me!", I protested.
Well, I hadn't tried the Cherries. These are the best fitting jeans I've ever tried and I'm now a convert with three pairs; the personal shopper at work says he only sells Oasis jeans, and I've met so many customers who swear by them too.
These were the pale denim wash which didn't really suit my style, so I attacked them with bleach, a sponge and a pair of scissors.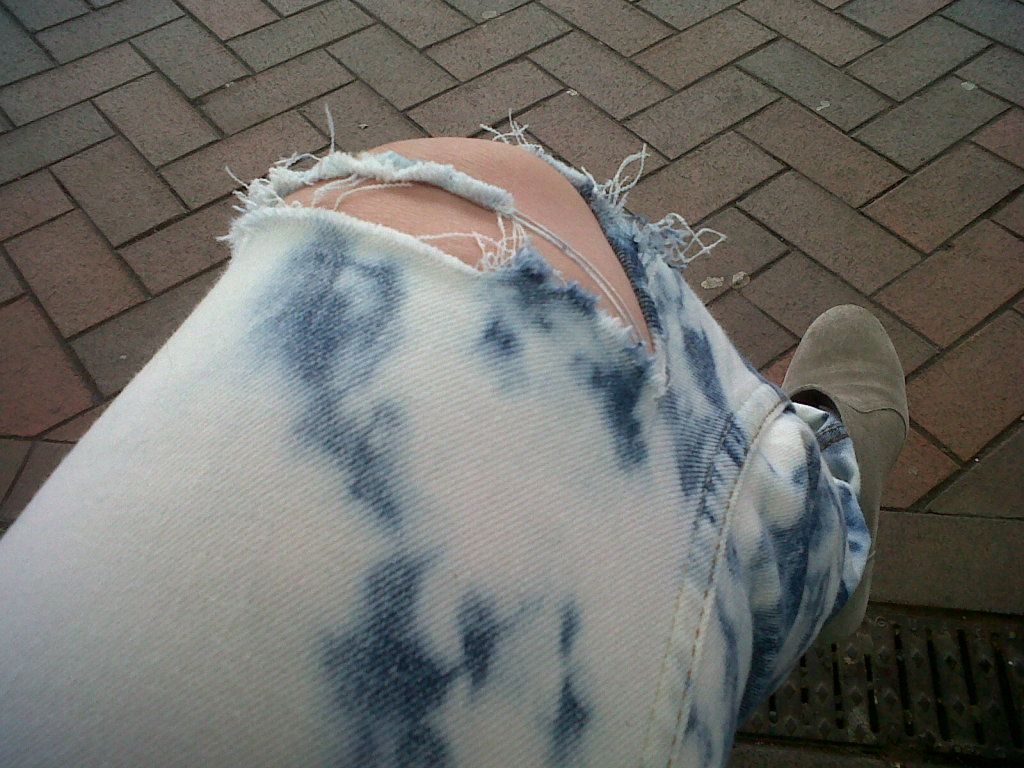 I wore these to go into the city on Saturday and felt a little self-conscious; did I look a bit too 1990s retro? In the bad way, of course. I remembered the Wardrobe Angel telling me about dying a pair of trousers black with the result of them coming out grey, so I thought it wouldn't hurt if I put a light wash of Dylon grey through them. How wrong I was! They are now near enough black. Don't be surprised if they don't soon have another run-in with the bleach to make them more mottled once again.
What has this denim-related episode taught me? Absolutely nothing. I will carry on bleaching and dying as if I've never bleached or dyed before. That's the fun of customisation!
If you would like to try your own pair of Oasis jeans - or perhaps raid the sale, with tops starting at £9 (I KNOW RIGHT) I have a £30 Oasis gift card to give away to one lucky reader, plus a mascara and lipgloss kindly donated by Clinique Selfridges Exchange Square.
** This competition is closed, sorry! **
And you're DONE! If you don't have a Bloglovin' account let me know and we can work something out. Your email address is just so I can email you if you win - there's no adding to any email address lists here.
This competition closes on the 20th June at 7pm, and the winner will be contacted shortly after. Best of luck to you all. You could even come and visit me to spend your voucher in my store!