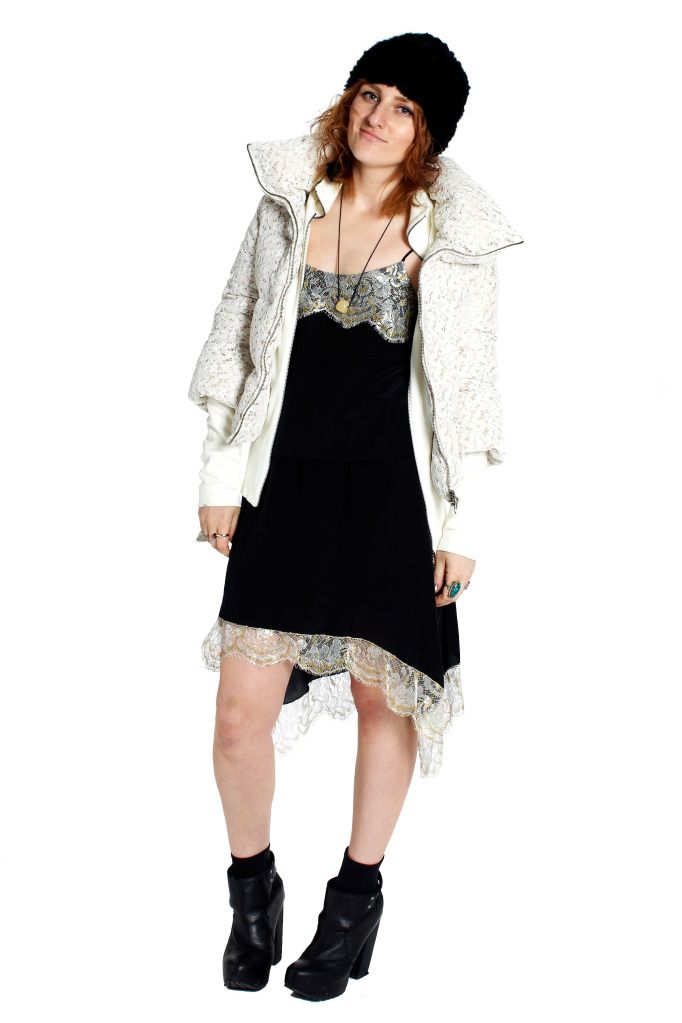 What seems like a long time ago now, but was probably only about April, a plan was masterminded. Initially by
fellow Manchester blogger Clare
and
boutique owner Adam
, but many - including myself - got roped in to help out along the way. A party, just for fashion bloggers, with the opportunity to get a pro picture in
The éditeur's
designer duds. Throw in cupcakes, champagne, and a cracking goodie bag into the mix and you surely have the key to every fashion bloggers' heart.
Last Thursday was the big night, and we crammed in
The éditeur
's shop to consume said cupcakes and champagne. We worried that nobody would turn up, that too many would turn up, and that nobody would get along - but it seems our worries were unfounded, as everyone was super friendly, and were eager to cast off their clothes and slip into something a little more luxe. Even I was impressed with the goodie bag, despite the hints along the way -
Wolford tights
, a
ChloBo bracelet
, and a hairpiece made especially by
hat designer Laura Apsit Livens
.
My chosen outfits were a
Patrizia Pepe ski jacket & slip dress
(a kind of riot grrl/early J. Lo mash-up) and a Michael Kors cape & slinky dress (so new they're not even on the website yet). I was a little bit in love with both looks - I was especially surprised at the dreamy fit of the Michael Kors pieces, having always assumed he was more of a TV personality than a real designer - and I'm so impressed with the photos, I almost look like a REAL MODEL. Just not quite as tall, or thin.. or, well, model-like. I had to be prized out of my outfit at the end of the evening, as most of us did. I've featured the lovely ladies dressed in all their finest below; click on the photo to be taken to their blog.
Big, big thanks must go to the lovely team at The editeur, Clare for getting me involved in helping to organise the event, and all the bloggers who attended. I had a fabulous time! Cheers, and here's to the next one.